Palestinian Youth to Organize the first Conference for Youth National Unitary Activism "Lejan"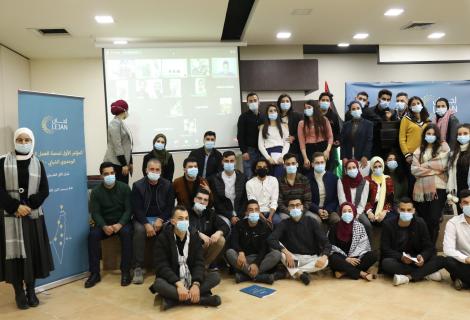 Ramallah – Palestine -More than 70 Palestinian young people coming from historical Palestine, refugees camps in Diaspora, West Bank and Gaza Strip met  in the first youth Conference "Lejan" organized  by ActionAid Palestine(AAP) through its program of " Civil and Democratic Participation of Palestinian Youth" .It aimed to discuss issues of concerns to all Palestinians and create a platform for national unitary action that could bring all the different views of the Palestinian public together regardless of their political affiliation and geographical distance to tackle the conditions of division. The conference was titled with "Lejan" to express the unity of Palestinians through special committees formed by youth.
The conference included face to face and online sessions using zoom that explained the production of position and policy papers similar to the level of the official policy and positions papers. They also included trainings on the structures of the political systems in Palestine since the Ottoman period until today, needs of youth and discussing the legal positions towards the Palestinian cause and identifying the international commitments.
Through the positions papers the young participants produced during the conference, different demands were raised suggesting that policy programs should be designed to tackle and create t solutions to issue of Israeli annexation to West Bank, strengthening the youth participation in the political process and decision making and increase respect to freedom of expression in Palestine, legislating family protection law and improving the quality of medical governmental services. The youth were divided into committees to produce  position papers that represent political (representing Gaza), legal, cultural (representing Lebanon) economic and social (representing West Bank) committees.
Wisam Aweinah describing this conference saying: "Lejan conference is a platform that that brought Palestinian youth from Gaza, Lebanon and Green Line together at a time when we lack these kinds of participatory and interactive platforms. I participate in this conference to create a better future for me
Zaid Zeidan (23 years old) described his participation saying: "I have participated in the first conference for Palestinian youth national unitary activism "Lejan" to strengthen the political role of the Palestinian youth in decision making positions and show new different youth capacities".
Lana Fararjah (22 years old) explained reason for her participation in this conference: "I participated in this conference to strengthen the role of youth and encourage them to work towards improving the conditions of our community".
The youth who participated in this conference will continue working and organizing lobbying and advocacy campaigns during 2021 to demand duty-bearers and decision makers to fulfill their demands mentioned in the position papers they produced. 
Background Information
ActionAid in Palestine (AAP) is a part of global federation working for social justice and gender equality and eradicate poverty in more than 45 countries around the world. AAP started its work in Palestine in 2007 to strengthen the resilience of Palestinian People as ActionAid believes that they should enjoy their rights to freedom, justice and self-determination. AAP implements a number of programs through its engagement with communities and women and youth groups seeking to empower them and enhance their influential civil and political participation to understand their rights and undertake collective activism to address the protracted rights violations resulting from the prolonged occupation of Palestine. AAP works simultaneously to enhance their leadership capacity and knowledge to practice their citizenship in holding authorities and other duty bearers to account.
For more information, please contact
Riham Jafari
Coordinator of Advocacy and Communication in Palestine
Mobile:
+972 (0) 595242890
Office:
+972 (0) (2) 22 13 137
Email: