Palestinian Youth Tell their Stories in 2nd International youth Gathering in Solidarity with Palestine in Tanzania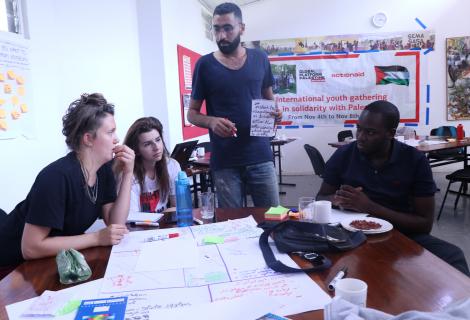 Raising Awareness of African and European Youth about Palestinian Rights
Baha' Juma'ah (30 years old) is a Palestinian refugee young man who lives in Burj Shemali camp is located three kms from the city of Tyre in south Lebanon.Baha'a was selected to participate in the second international Youth Gathering (IYG) in solidarity with Palestine in Tanzania\organized by ActionAid Palestine.
Baha'a is happy for this participation saying : " I am happy to represent the youth voice in this gathering as it is an opportunity for us to meet our colleagues from Lebanon, the West Bank, Jerusalem and Gaza and other youth from Africa and Europe to share experiences related to youth campaigns and advocacy issues as well as daily life and internal circumstances my people in Palestine pass through".
AAP worked really hard to give youth this opportunity to raise their voices to be heard and play a great role in lobbying and advocating for their rights among the participants that attended this gathering .
Baha'a is an example of youth community activist and mobilizer who works in many different community projects to improve conditions of refugee youth and children. He works as consultant and trainer in the field of combating child labor and psycho-social support. He also works as a volunteer music teacher in some of community music projects teaching refugee children music in Burj Shemali camp to help refugee children to relieve their stress and express themselves through music.
Baha'a expressed his excitement towards this participation saying: " it showed me the energy we have as youth; the scale of advocacy we can do; the scale of lobbying we can do. We offer a different point of views. It is useful experience allowing us to exchange ideas and experiences with European and African youth. For me, it is a wonderful experience as it opened my eyes to so many things. It showed me firsthand what I can do, and engagement of youth in creating community change ".
Baha'a continued saying: " this gathering provided us with a great space to express our opinions freely regarding all challenges we face".
" I warmly thank ActionAid Palestine for organizing this gathering, which inspired me in many ways"
Background Information
ActionAid
ActionAid is ActionAid is a global federation working for a world free from poverty and injustice. It is a leading international charity working in over 45 countries. We work with the poorest women and children in the world, changing their lives for good. Our local staff provide immediate, hands-on support to women and children living on the margins of survival. Together we demand action at local, national and international level. We don't walk away until we've achieved lasting change. 
For more information, please contact:
Riham Jafari:  Coordinator of Advocacy&Communication in ActionAid Palestine
Mobile Number: +972 (0) 595242890
Email: Riham.Jafari@actionaid.org