ActionAid Palestine to Continue Responding to COVID-19 in Gaza Strip by Integrating Needs of Vulnerable Groups in Response and Preparedness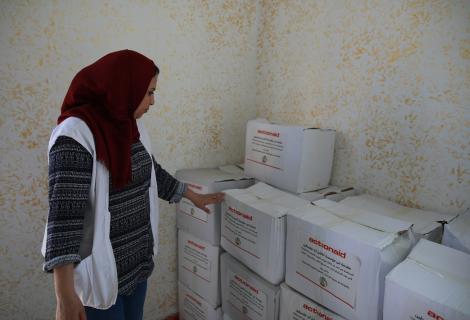 Gaza Strip- Gaza Strip-Occupied Palestinian Territory(oPt)-ActionAid Palestine (AAP)implemented its third emergency intervention in partnership with the Palestinian Developmental Women Studies Association (PDWSA) in seven communities in Gaza strip Wadi Al-Salqa-Abu Al-Ajin ,West Al Zawaida, Al Mosadar, Jiher Al-Deek,Wadi Gaza, and  middle area of  Al Nuseirat).This support aimed at supporting groups that are mostly affected by the spread of corona virus and its consequences and lockdown affecting all the aspects of economy and services. AAP and PDWSA considered the needs of community organizations and  basic needs of the most vulnerable groups including women, elderly  and people with disabilities at times of crisis  to ensure the respect to  their dignity by integrating their needs and special conditions in the activities of this response to strengthen their resilience and capacities for combating COVID-19.
(photo of young woman volunteer during the distribution of diapers in Gaza Strip)
This response was implemented in cooperation with local committees and grassroot organizations seeking to promote the leading role youth play in preparedness and response actions of emergency. Youth were trained on how to address emergency cases, safety and preventive measures and social distance to ensure their security. 
(photo of young man volunteers during the distribution of diapers in Gaza Strip)
This response was funded by Disaster Preparedness and Response Fund (DPRF) managed by ActionAid International. It aimed to mitigate the impacts of sever economic and social challenges resulting from the prolonged blockade on Gaza over the 13 years and food insecurity. It also aimed to build the capacities of community organizations to be able to face this crisis and provide a motivating support in time to counteract the repercussions of dangers of blockade caused by the spread of virus.