ActionAid Palestine to Renew its Partnership with Palestinian Organizations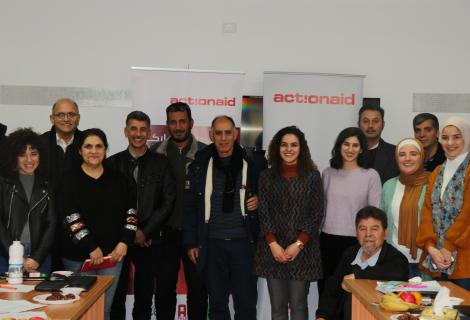 to Support Palestinian Youth
Hebron-West Bank- The country Director of ActionAid Palestine(AAP), Ibrahim Ibraigheth signed today five partnership agreements with Palestinian organizations working in the field of youth to support the role of youth and enhance their democratic and civic participation in West Bank, Gaza Strip and Occupied Palestinian areas inside Green Line of 1948–49. Signing ceremony took place in AAP's office based in Hebron in the presence of representatives of those organizations and number of AAP's staff members.
This renewed partnership came under AAP's program of "Civic and Democratic Participation of Palestinian Youth" funded by Danish International Development Agency (DANIDA). AAP implements this program in partnership with the Arab Center for the Advancement of Social Media (7amleh), Alternative Information Center (AIC)and the Palestinian Center for Policy Research & Strategic Studies (MASARAT). The program welcomed another two new partners which are Civic Coalition for Palestinian Rights in Jerusalem (CCPRJ) and the Union of Coalition to Defend Land.
Through this renewed partnership, AAP will work with those organizations to implement different activities aiming to empower youth and promote communication with each other as they represent all the Palestinian society through knowledge and tools that will enable them to take initiatives and create change. Furthermore, Palestinian youth will be empowered to influence decision-making processes to realize their rights, build their capacities, political participation and networking. Those activities will promote the spirit of voluntary work among youth. 
Background Information
ActionAid
ActionAid is ActionAid is a global federation working for a world free from poverty and injustice. It is a leading international charity working in over 45 countries. We work with the poorest women and children in the world, changing their lives for good. Our local staff provide immediate, hands-on support to women and children living on the margins of survival. Together we demand action at local, national and international level. We don't walk away until we've achieved lasting change.
ActionAid in Palestine (AAP) is a part of that federation which started its work in Palestine in 2007 to strengthen the resilience of Palestinian People as ActionAid believes that they should enjoy their rights to freedom, justice and self-determination. AAP implements a number of programs through its engagement with communities and women and youth groups seeking to empower them and enhance their influential civil and political participation to understand their rights and undertake collective activism to address the protracted rights violations resulting from the prolonged occupation of Palestine. AAP works simultaneously to enhance their leadership capacity and knowledge to practice their citizenship in holding authorities and other duty bearers to account.
For more information, please contact
Riham Jafari
Coordinator of Advocacy and Communication in Gaza Strip and West Bank
Mobile:
+972 (0) 595242890
Office:
+972 (0) (2) 22 13 137
Email:
 Riham.Jafari@actionaid.org