ActionAid Palestine to Support Palestinian Youth Entrepreneurial Enterprises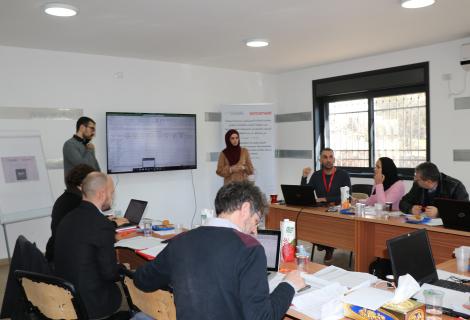 Building their Professional Capacities in Labor Market and Decrease Unemployment
ActionAid Palestine (AAP) supported entrepreneurial enterprises targeting Palestinian young men and young women (18-29 years old), who are interested in building and developing their entrepreneurial and creative ideas, small and medium-sized enterprises. This support is part project of "Social Innovation" funded by Italian Agency for Development Cooperation in partnership with Palestine Polytechnic University, Milano Municipality, Consorzio Gino Mattarelli (CGM) and Agility Management and Financial Consulting. It aims to combat unemployment among youth, build their professional capacities needed for labor market and promote their economic resilience of their communities as marginalized communities in eight neighborhoods in governorates of Bethlehem and Hebron in the south of the West Bank.
  14 entrepreneurial and distinguished ideas were selected among other 176 ideas after applying to financing those enterprise had been advertised within Tafawoq Youth competition2. A group of experts and specialist in the field of entrepreneurship and social enterprise evaluated the applications according to standards related to use of innovative and effective solutions which qualitatively impact and create changes in the lives of individuals and their local communities.
 By financing entrepreneurial enterprise, the project aims to improve organizational and supporting environment to youth entrepreneurship and tackle the structural, social and environmental challenges entrepreneurs face. Furthermore, youth will be empowered in utilizing the existing opportunities in the local market and their capacities will be strengthened so that they could overcome social and economic challenges. It will also encourage entrepreneurs to access services and enhance performance of their existing projects and support them to establish new, growing, profitable, financially sustainable enterprises serving the local community.
The selected enterprises will be provided with specialist training services to help entrepreneurs to deepen their understanding for the concepts and skills of entrepreneurship and social enterprise. In addition, trainings will build their capacities in different fields including means of market research, planning, designing work plans, management of profitable enterprises, financial management and skills of searching information. Their opportunities to access financial resources and technological specialist services and local and international markets will be increased. As a result, AAP in partnership with Consorzio Gino Mattarelli (CGM) and Agility Management and Financial Consulting started the new round of incubation and coaching for 3 social enterprise projects.
Background Information
ActionAid
ActionAid is ActionAid is a global federation working for a world free from poverty and injustice. It is a leading international charity working in over 45 countries. We work with the poorest women and children in the world, changing their lives for good. Our local staff provide immediate, hands-on support to women and children living on the margins of survival. Together we demand action at local, national and international level. We don't walk away until we've achieved lasting change.
ActionAid in Palestine (AAP) is a part of that federation which started its work in Palestine in 2007 to strengthen the resilience of Palestinian People as ActionAid believes that they should enjoy their rights to freedom, justice and self-determination. AAP implements a number of programs through its engagement with communities and women and youth groups seeking to empower them and enhance their influential civil and political participation to understand their rights and undertake collective activism to address the protracted rights violations resulting from the prolonged occupation of Palestine. AAP works simultaneously to enhance their leadership capacity and knowledge to practice their citizenship in holding authorities and other duty bearers to account.
For more information, please contact
Riham Jafari
Coordinator of Advocacy and Communication in Gaza Strip and West Bank
Mobile:
+972 (0) 595242890
Office:
+972 (0) (2) 22 13 137
Email: