COVID-19 Spreads in Palestinian Refugee Camps in Bethlehem Governorate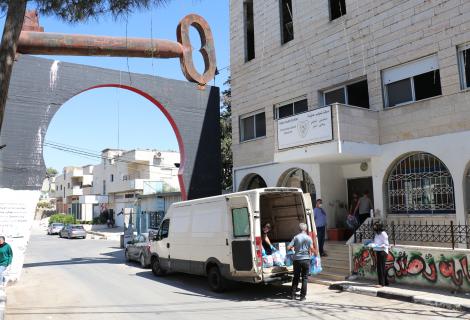 Bethlehem-West Bank -ActionAid Palestine (AAP) responded to the needs of refugee camps and communities in Bethlehem governorate to combat the second wave of COVID-19. This response was conducted by engaging youth groups in actions of response and preparedness. Response efforts were coordinated with the public committees for services in Palestine refugee camps of Beit Jibreen, Deheisha and Aida and emergency committee in Doha town. 125 infected families that stay in home quarantine were provided with hygiene kits to promote their preventive actions and contain the spread of the virus.
(photo for members of youth groups while they are preparing hygiene kits to be distributed on families in home quarantine)
Responses initiatives were implemented by youth voluntary groups in those refugee camps in Bethlehem governorate and with the support of youth activists from towns of Battair and Dar Salah. AAP's conducted this intervention in partnership with Alternative Information Center, and coordination with the national and governmental stakeholders including Bethlehem Governorate, Palestinian Ministry of Social Development (MoSD), and emergency Committees in those areas and Doha municipality.
(photo of young people while they are packing hygiene kits to be distributed on families in home quarantine in Bethlehem governorate)
Through "Civil and Democratic Participation of Palestinian youth" Programme, AAP seeks to support the youth initiatives in response and preparedness actions. Youth are responsible for assessing the needs of community and current threats and developing response plan addressing those threats. Youth are engaged in constructive dialogue with decision makers concerning intervention mechanism and youth responsibilities during this crisis. Youth are involved in raising Palestinian community's awareness about preventive measures to contain the spread of virus through social media.