ActionAid Palestine to Celebrate the End of the Project of "Civil and Democratic Participation for Palestinian Youth"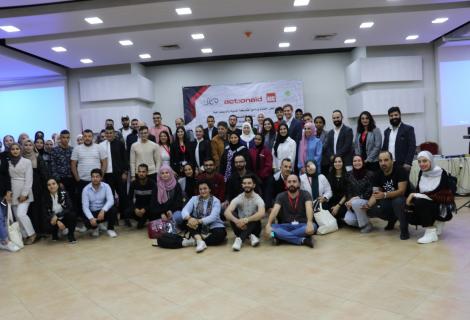 Palestine -Diaspora camps -ActionAid Palestine (AAP) celebrated the end of its project of "Civil and Democratic Participation of Palestinian Youth" which it launched in 2018 and implemented in partnership with Alternative Information Center,  the Palestinian Center for Policy Research and Strategic Studies (Masarat ) and  7amleh - the Arab Center for the Advancement of Social Media(7amleh).The project was funded by Danish International Development Agency (DANIDA) aiming to promote the  civil and democratic participation and empowering them to influence the decision makers in the fields of democracy and recognition and claiming their rights according to International Law.
This closing ceremony took place in the halls of the Palestinian Red Crescent Society in Al-Bireh city in the West Bank and in Al-Mathaf hotel in Gaza. The ceremony was attended by senior country program adviser at representation of Denmark to the Palestinian Authority and UNRWA, Mr,Ole Rosenborg Justsen, her Excellency, Minister of Women's Affairs,(MOWA) Dr. Amal Hamad ,representatives of local and governmental organizations , local and municipal councils which worked with AAP to achieve the goals of the project during the past four years, many youth who participated in the activities of the project and other  young people from refugee camps in Diaspora through zoom.
 Many speeches were delivered during the ceremony highlighting the importance of the project in promoting the role of youth and offering them sufficient spaces allowing them to lead the change. The country director of AAP, Ibrahim Ibragaith welcomed all those present, partners and her excellency, the minister of MOWA and young people stressing the message of the project saying: "the project was essentially need to provide youth with opportunities, spaces to exchange skills and knowledge enabling them to use new ways of thinking including strategic thinking, new life skills for leading change,  solidarity, voluntary work and creative initiatives"  
 Her excellency, minster of MOWA, Dr. Amal Hamad expressed her thanks and appreciation to APP praising its unique role in serving youth. She also expressed her appreciation to the Danish support hoping that Danish support would continue for Palestinian youth. She said: "this day is a special and exceptional day for me as it gave me the chance to meet a pioneer, distinguished and creative group of young people that are capable of creating change and social and democratic transformation".
The senior country program adviser at representation office of Denmark to the Palestinian Authority and UNRWA, Ole Roseenborg Justesen expressed his thanks and appreciation to AAP and its partners and his happiness towards participating in this ceremony and joining youth in celebrating their achievements and success stressing the support of Denmark to them saying : " it is important to continue our efforts in supporting Palestinian youth so that they could play a permanent active role in serving their community and their way of tackling issues will essentially be needed for building a promising future for them . Palestinian youth of today will be the future leaders".
The general director Masarat Center, Hani Al-Masri said: "the main skills gained through the project include knowledge about the core issues of the current conditions of the Palestinian cause. Youth were trained on life skills and skills needed for writing policy papers and leading campaigns. They applied the knowledge and skills in implementing initiatives, holding accountability sessions, and establishing cooperatives".   
The head of the board members of 7amleh, Reem Amer said: "the project had built the capacities and youth and university graduates in an attempt to prepare them for work and develop their capacities in the fields of internet and digital security".
The director of AIC, Mr. Nassar Ibrahim said: "the project was built on the philosophy of raising awareness and enhancing knowledge to be utilized in the field work and implementing initiatives".
At the beginning of the project, youth groups were built and established in cooperation and coordination with grassroots organizations and youth activists. For Four years, the members of those groups have been leading change, participating in serving the Palestinian community and advocating for their cause on different occasions. 5589 young people benefited from programs of capacity building trainings provided by Global Platform Palestine -ActionAid and partners of the project. Those trainings have enhanced the skills of youth and helped them to understand the issues of rights and Participation.
During COVID-19, youth utilized capacities, knowledge, skills and leadership experiences they gained during in addressing the state of emergency. Young volunteers were on the frontlines, and they effectively participated in decision making processes and leading community initiatives in community and health preparedness and response actions for combating pandemic.
During its journey lasting for 4 years, the project contributed to create a platform for youth action on national level by engaging youth in different positions of decision-making processes to greatly make their voice heard.
The project empowered 776 young people to hold decision making positions by helping them to run for municipal and local elections, and elections of local and cultural organizations on national and international levels.
The program supported establishing the Palestinian united platform for youth action "Lejan' Which includes volunteers and activists from all places the Palestinian exist in from West Bank-Jerusalem, Green line of 1948, Gaza and Diaspora camps
Lejan led advocacy and lobbying campaigns on national, regional, and international levels to stress the unity of the Palestinian cause and exemplify a model for a unified work overcoming geographical borders.
More than 7340 young people benefited from community activities that were organized through the project. The projected had enabled youth to lead 69 advocacy campaigns for claiming their rights and defending the rights of the marginalized groups.
Background Information
ActionAid in Palestine (AAP) is a part of global federation working for social justice and gender equality and eradicate poverty in more than 45 countries around the world. AAP started its work in Palestine in 2007 to strengthen the resilience of Palestinian People as ActionAid believes that they should enjoy their rights to freedom, justice and self-determination. AAP implements a number of programs through its engagement with communities and women and youth groups seeking to empower them and enhance their influential civil and political participation to understand their rights and undertake collective activism to address the protracted rights violations resulting from the prolonged occupation of Palestine. AAP works simultaneously to enhance their leadership capacity and knowledge to practice their citizenship in holding authorities and other duty bearers to account.
For more information, please contact
Riham Jafari
Coordinator of Advocacy and Communication in Palestine
Mobile:
+972 (0) 595242890
Office:
+972 (0) (2) 22 13 137
Email: