ActionAid Palestine to Launch Palestinian Youth National Network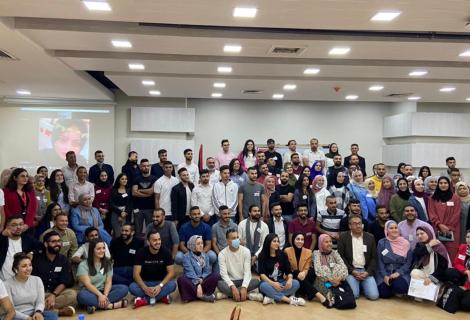 Ramallah-Gaz Strip-Diaspora Refugee Camps -ActionAid' program of "Civic and Democratic participation for Palestinian youth (CIV)" has lunched the Palestinian Youth National Network (PYNN) with the participation of the Representatives of many youth organizations, groups, local councils, parliaments and number of youth activists in West Bank, Gaza and diaspora refugee camps. PYNN was launched through face-to face meeting organized in the halls of the Palestinian Red Crescent Society based in Al-Bireh near Ramallah in West Bank and virtual meeting organized through zoom with the representatives of  youth organizations and groups  from Gaza and Diaspora refugee camps.
PYNN aims to provide young people with mechanisms and tools to enhance young people's participation and engagement in serving their communities and should give them the ability to engage in local governance and represent the needs and future aspirations of young people in order to create a balance between local needs and youth national interests. The PYNN will also try to be a channel that connect existing, effective, and legitimate young activists with officials and public institutions that will enhance young people's participation and independence at various levels which will support our vision for a democratic and independent youth national network as well as providing young people with continuing political visions that respond to  political developments and national challenges.
PYNN will help to challenge the exclusion and marginalization issue. This will improve young people's active participation in the social, political and economic aspects and all the challenges young people face in the Palestinian society to build future strategies and setting a network of contacts at national level in Palestine.
PYNN was based on a research study that identified the most active youth groups and organizations in Palestine and Diaspora. It also outlined the most important challenges and problems facing the youth sector. More than 110 participants representing previous structures participated in the founding meeting that was organized to formulate the vision, mission, message and structure of PYNN.  
PYNN will organize the youth work and achieve its integration in Palestine. It will establish communication channels between Palestinian youth in Diaspora refugee camps, Gaza Strip and West Bank and seek to help youth to represent themselves in major issues related to the Palestinian Cause.
The manager of AAP's Global Platform-Palestine, Wisam Shweiki said "PYNN is one of the outcomes of AAP's program of CIV that it has been implementing for four years. PYNN will assist in creating a common vision for Palestinian voice, community and youth, at all levels regardless of their political, geographical, social and economic divisions. Those young people jointly share the feelings of suffering caused by internal division and fragmentation of efforts in all fields.
Ghadeer Saleh, is a member in "Madarat Youth association" said: "establishing PYNN that represents all Palestinians from different areas is considered a great achievement tackling the concerns and problems of youth. PYNN is not words on papers and can lead to establishing an independent and free youth structure".   
The coordinator of Youth Pulse group, Islam Al-Natasha said: "PYNN is essentially needed for unifying efforts of youth work in Palestine and it can strongly promote cooperation between all Palestinian governorates".
The youth activist and coordinator of Basmah Youth group, Hazar Al-Shami said: "PYNN will create an incubator for youth in the absence of structure that could represent youth. PYNN could expand the horizons of voluntary work in more areas, allow youth from different backgrounds to know each other, create more opportunities and unify youth's efforts".
The youth activist, Mo'men Qashqeesh sees: "it is important to consolidate the efforts of Palestinian youth instead of scattering them between cities. With the existence of PYNN, it would be possible to implement initiatives and policies to create a social change in the community according to the principle of " union is power".
Background Information
ActionAid in Palestine (AAP) is a part of global federation working for social justice and gender equality and eradicate poverty in more than 45 countries around the world. AAP started its work in Palestine in 2007 to strengthen the resilience of Palestinian People as ActionAid believes that they should enjoy their rights to freedom, justice and self-determination. AAP implements a number of programs through its engagement with communities and women and youth groups seeking to empower them and enhance their influential civil and political participation to understand their rights and undertake collective activism to address the protracted rights violations resulting from the prolonged occupation of Palestine. AAP works simultaneously to enhance their leadership capacity and knowledge to practice their citizenship in holding authorities and other duty bearers to account.
For more information, please contact
Riham Jafari
Coordinator of Advocacy and Communication in Palestine
Mobile:
+972 (0) 595242890
Office:
+972 (0) (2) 22 13 137
Email: