ActionAid Palestine to Promote Building Required Skills of Youth in Post-COVID-19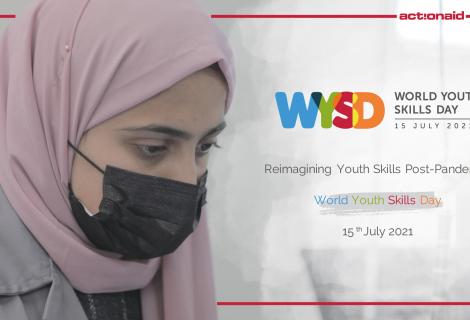 On the Occasion of World Youth Skills Day
Hebron -Palestine ActionAid Palestine (AAP) celebrates today the World Youth Skills Day 2021 which falls on 15th of July each year. This day pays a tribute to the resilience and creativity of the youth. It also calls governments and relevant stakeholders to encourage and utilize their creativity. The theme for 2021 is 'Reimagining Youth Skills Post-Pandemic' which focuses on the importance of developing youth and training them on skills suiting the challenging context of post-COVID-19.
This occasion comes in very challenging context due the continuous crisis of COVID-19. Strengthening skills and capacities of youth needs to adapt educational training and vocational systems to Corona context. It also requires thinking of how those systems could contribute to recovers and set their priorities that suit the demands of labor market in context of post-COVID-19.
AAP continues providing youth with the necessary professional and life skills by building its trainings approaches and tools on online training and remote work to adapt with the new reality created by crisis by imposing lockdown and stopping of face-face training.
AAP started implementing " INTERNISA" project as an action taken for preparation to the context of post crisis and mitigating its impact on young people. It aims is to bridge the digital gender gap and provide marketable digital skills in Mediterranean territories by developing a network and a portal that brings closer the demand and supply of the labour market, providing women with digital skills, and delivering professional training in the agri-food, financial, textile, and tourism sectors.
Our trainings aim to build the necessary professional and life skills of youth needed for promoting their role and participation in the public life and serving community. In addition, they aim to improve their social and economic conditions and combat unemployment. We provide training through our programs and projects of "Civil and Democratic Participation of Palestinian Youth", INTERNISA" , Global Platform Palestine-AAP which is youth hub training that support improving the life and professional skills of Palestinian youth and " Social Innovation" . Those projects are implemented in partnership with Palestinian grassroots organizations.
The number of unemployed persons reached 383 thousand in the 1st quarter of 2021; of which 228 thousand persons in Gaza Strip and 155 thousand persons in the West Bank. Hence, the disparity remains large in the unemployment rate between the West Bank and Gaza Strip, as this rate reached 48% in Gaza Strip compared to 17% in the West Bank. As for the sex level, the unemployment rate for males in Palestine reached 24% compared to 43% for females.
Background Information
ActionAid in Palestine (AAP) is a part of global federation working for social justice and gender equality and eradicate poverty in more than 45 countries around the world. AAP started its work in Palestine in 2007 to strengthen the resilience of Palestinian People as ActionAid believes that they should enjoy their rights to freedom, justice and self-determination. AAP implements a number of programs through its engagement with communities and women and youth groups seeking to empower them and enhance their influential civil and political participation to understand their rights and undertake collective activism to address the protracted rights violations resulting from the prolonged occupation of Palestine. AAP works simultaneously to enhance their leadership capacity and knowledge to practice their citizenship in holding authorities and other duty bearers to account.
For more information, please contact
Riham Jafari
Coordinator of Advocacy and Communication in Palestine
Mobile:
+972 (0) 595242890
Office:
+972 (0) (2) 22 13 137
Email: