Palestinian Woman to Lead Response to COVID-19 on Frontlines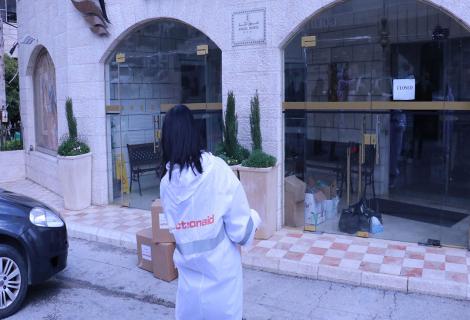 Palestine-As a part of its strategy during the whole year, ActionAid Palestine (AAP) highlights the meaningful and tireless efforts that Palestinian women and women of the world exert in responding to COVID-19. AAP utilizes the occasion of international Women Day which falls on 8th of March each year to shed the light on those efforts and advocate for the rights of Palestinian women. The theme of this occasion this year is "Women in leadership: Achieving an equal future in a COVID-19".
AAP celebrates Palestinian women by organizing dialogue sessions tackling the condition of Palestinian women in general and their conditions during COVID-19. AAP will also organize social media campaigns to highlight the important role the women play during this pandemic to support the resilience of their community. Palestinian women are also at the forefront of the battle against COVID-19, as front-line and health sector workers, and caregivers.
COVID-19 has greatly impacted Palestinian women in many aspects. In addition to persistent pre-existing social and systemic barriers to women's active participation in public life, new barriers have emerged with the COVID-19 pandemic. Women are facing increased domestic violence during Lockdown. This pandemic has increased their unpaid family care duties, unemployment, and poverty.
During the last year, AAP highlighted the impact of this pandemic on the lives and rights of women. AAP implemented many advocacy and lobbying campaigns and activities with partners to demand for protection of women's rights and enhancing their social and economic conditions during this crisis.  Those activities demanded to essentially legislate new laws protecting women from Gender Based Violence (GBV) and put an end to all forms of violence including violence resulting from the prolonged military occupation to Occupied Palestinian territory (oPt). Those demands also include demands for protection of economic and social rights of women in informal labor market. Through raising awareness sessions, women were provided with tools to strengthen their capacities of adaption with the condition of this pandemic and educated about   those rights and entry to labor market. Women were also educated about tools they could use to increase their income through self-employment in different fields as entrepreneurship and social entrepreneurship. Decision -makers and relevant stakeholder were also demanded to increase women participation in decision -making processes of different fields.
AAP worked with women and partners to achieve a better world for women where they enjoy rights equal to their different duties. This approach was proactively integrated in all of AAP's interventions and responses that have been implemented since the outbreak of the pandemic in oPt to effectively serve the whole community with focus on the most marginalized groups. Women's health, safety and needs were considered in designing   those interventions and responses with emphasis on organizational and community reactions to roles and responsibilities women perform. It also promotes women leadership and contribution to   recovery plans that integrate gender equality in the fields of health and economy.
  Background Information
ActionAid in Palestine (AAP) is a part of global federation working for social justice and gender equality and eradicate poverty in more than 45 countries around the world. AAP started its work in Palestine in 2007 to strengthen the resilience of Palestinian People as ActionAid believes that they should enjoy their rights to freedom, justice and self-determination. AAP implements a number of programs through its engagement with communities and women and youth groups seeking to empower them and enhance their influential civil and political participation to understand their rights and undertake collective activism to address the protracted rights violations resulting from the prolonged occupation of Palestine. AAP works simultaneously to enhance their leadership capacity and knowledge to practice their citizenship in holding authorities and other duty bearers to account.
For more information, please contact
Riham Jafari
Coordinator of Advocacy and Communication in Palestine
Mobile:
+972 (0) 595242890
Office:
+972 (0) (2) 22 13 137
Email: