Promoting Environmentally Friendly Practices among Palestinian Youth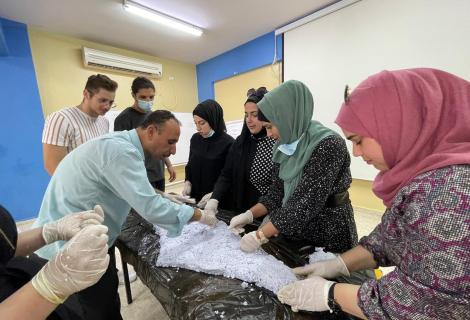 On the Occasion of International Youth Day
ActionAid Palestine (AAP)'s program of "Civil and Democratic Participation of Palestinian Youth" organized a workshop on recycling papers in partnership with the Palestinian Environment Quality Authority. It targeted 30 young people from different parts in the governorates of Hebron and Bethlehem.
This workshop aimed at promoting the role of youth and raising their awareness towards Palestinian environment by utilizing their capacities in civil and environmental actions that serve community. Investing in youth capacities will contribute to solving problems of environment, unemployment and poverty and bridge the gap existing in services delivered to community by maintaining and cleaning the environment.
The participants were trained on recycling papers and creating new items of recycled papers.     
This workshop was part of a series of activities that AAP implemented on the occasion of international youth day which falls on 12th of August.  Through the workshop, Youth learned skills of forming papers and means of using recycled papaer and making different paintings.
Jamal Tmaizah is a trainer of the workshop working for the Palestinian Environment Quality Authority says: "We are here today to training youth groups on how to recycle papers for making educational and entertainment means with innovative ways. Recycling papers prevents cutting off trees and decreases wastes".  
Suhaila Bader is one of the participants in this workshop says: " recycling papers  is an important issue because we have large quantities of papers that we have to use to decrease wastes and make new items to be used in different fields."
 Zeinah Al-Ja'abari is a young woman who participated in this workshop: " the youth have a great role in saving the environment and decreasing wastes in community and recycled papers can be used in arts and other fields"