Women Groups of ActionAid Palestine Participated in Palestinian Food Exhibition in Hebron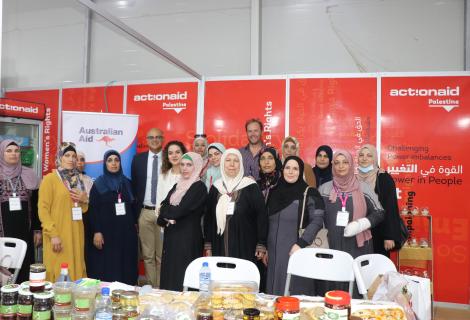 Four women groups of ActionAid (AAP)'s  Project Valiance "Basala Project funded by Australian Government-Department of Foreign Affairs and Trade (DFAT) participated in Palestinian Food Expo 2021 in Hebron .This exhibition was organized by union of food companies and shops to promote the Palestinian national products.
The representative of Australian of Government at Palestinian National Authority, Mark Bailey and head of programs in AAP, Amani Mustafa and other official and economic figures visited the section of women groups on the first day of the exhibition. 
This exhibition included more than 60 Palestinian national food companies and factories across the West Bank. Women groups have presented food products they produced for three days.
This economic event aimed at giving consumers, producers, importers, traders opportunities to learn about the quality of industry and its competition capacity on national and international levels. It also introduced citizens to national products and advertised them on different levels.
AAP seeks to offer women groups opportunities to participate in this kind of exhibition. It also supports the Palestinian women entrepreneurs by advertising their products in festivals and enhances their access to educational opportunities and trainings on marketing skills needed for developing their projects.
AAP's approach is based on strengthening the economic empowerment of Palestinian women to address root causes of marginalization of women and gender inequality. It simultaneously works on promoting the collective work of women by focusing on assisting women in organizing themselves and establishing networks and associations tackling their interests and concerns.
Background Information
ActionAid in Palestine (AAP) is a part of global federation working for social justice and gender equality and eradicate poverty in more than 45 countries around the world. AAP started its work in Palestine in 2007 to strengthen the resilience of Palestinian People as ActionAid believes that they should enjoy their rights to freedom, justice and self-determination. AAP implements a number of programs through its engagement with communities and women and youth groups seeking to empower them and enhance their influential civil and political participation to understand their rights and undertake collective activism to address the protracted rights violations resulting from the prolonged occupation of Palestine. AAP works simultaneously to enhance their leadership capacity and knowledge to practice their citizenship in holding authorities and other duty bearers to account.
For more information, please contact
Riham Jafari
Coordinator of Advocacy and Communication in Palestine
Mobile:
+972 (0) 595242890
Office:
+972 (0) (2) 22 13 137
Email: