On World Mental Health Day: Gaza children Need Psychological Support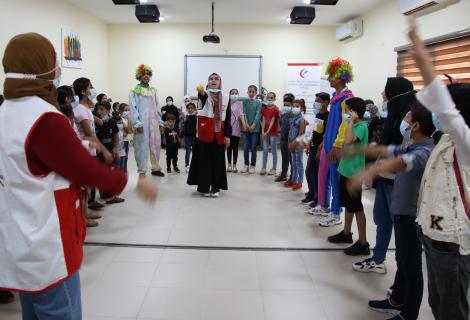 This year's World Mental Health Day which falls on 10th of October is observed to remind the world of the mental health crisis facing Palestinian women, youth and children in Gaza. The 11-day Israeli escalation against Gaza in May 2021 was stopped but its sequences continue impacting daily life in Gaza, just as many of the physical remain unhealed, so do the deep psychological and emotional scars among Gaza's two million inhabitants.
Children in Gaza are still suffering from psychological stress, fears, worry and lack of safety. Children have experienced airstrikes for long hours during that escalation. They also have followed social media which was full of images of destruction and victims. This escalation which coincided with Al-Fiter feast had prevented them from enjoying the holiday of feast.   
ActionAid Palestine (AAP) responded to the psychological needs of children by working with local partners in Gaza Strip including Al- Al-Aqsa Sports Club and Union of Health Work Committees (UHWC) through its community centers in Jabalia and Beit Hanoon. Stress Relief Sessions targeting children were supported through Disaster Preparedness and Response Fund (DPRF) of ActionAid International.
Those sessions aimed at mitigating the psychological and behavioral problems and tense cases among children (7-14 years old). More than 2000 children were targeted in areas of Beit Hanoon, Jabalia,  and some areas in the middle governorate that included, west of Insirat,Al-Mughraqa, Wadi Gaza,Hijar Al-Deek and Al-Musdar . 
The activities of psychological stress sessions that were implemented by psychological support team included children's games, movement games, entertainment games, painting, songs and other activities to overcome stress. Children also enjoyed receiving individual and group sessions. Mothers were also given psychological support.
According to a report issued by the Euro-Mediterranean Human Rights Monitor in July,2021, nine out of ten children in the Gaza Strip suffer some form of conflict-related trauma after one month of the end of the Israeli military attack.
Background Information
ActionAid in Palestine (AAP) is a part of global federation working for social justice and gender equality and eradicate poverty in more than 45 countries around the world. AAP started its work in Palestine in 2007 to strengthen the resilience of Palestinian People as ActionAid believes that they should enjoy their rights to freedom, justice and self-determination. AAP implements a number of programs through its engagement with communities and women and youth groups seeking to empower them and enhance their influential civil and political participation to understand their rights and undertake collective activism to address the protracted rights violations resulting from the prolonged occupation of Palestine. AAP works simultaneously to enhance their leadership capacity and knowledge to practice their citizenship in holding authorities and other duty bearers to account.
For more information, please contact
Riham Jafari
Coordinator of Advocacy and Communication in Palestine
Mobile:
+972 (0) 595242890
Office:
+972 (0) (2) 22 13 137
Email: