Young Volunteers Show Solidarity with Confiscated Lands with Planting Olive trees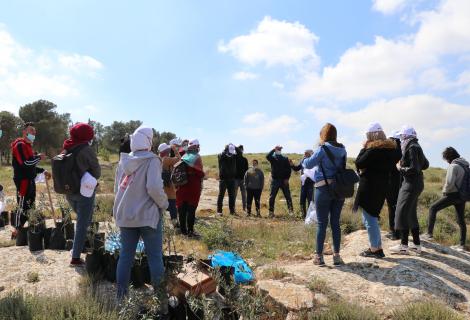 Young Volunteers Show Solidarity with Confiscated Lands with Planting Olive trees
25 Palestinian young people commemorated the Land Day by extending solidarity to Palestinian villagers of Twaneh village located in the south of Hebron governorate in the West Bank. Young people planted olive trees in this village as a stand against land confiscation and home demolitions. This initiative was conducted on Land Day which falls on 30th of March every year. It commemorates the killing of six Palestinians and the injuring of 70 others by Israeli gunfire in Nazareth in 1976 inside Green Line of 1948–49 during protests against Israeli policy of land confiscation.
(photo of Palestinian on her land in the village of Twaneh in south of West Bank )
Through its programme "Civil and Democratic Participation of Palestinian Youth" in partnership with Alternative Information Center (AIC), this youth initiative was supported to connect youth with ongoing issues faced by Palestinian people and strengthen resilience of Palestinian villagers in their lands by providing resources for villages to plant trees that are indigenous to Palestine's natural environment and agricultural life.