ActionAid Palestine to support psychosocial activities for women in Hebron Governorate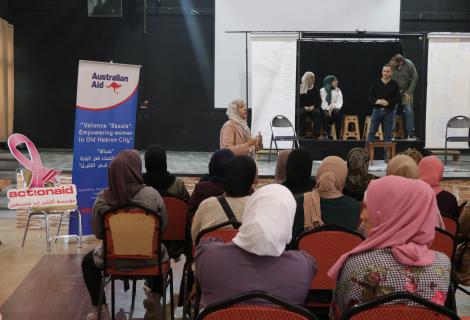 West Bank-Hebron Governorate -ActionAid Palestine (AAP)implemented raising awareness, health, psychosocial activities on occasion of World Diabetes Day. These activities aimed to raise awareness about importance of conducting early medical examination for breast cancer and the importance of women's mental health. The activities also focused on raising awareness of ways to prevent diabetes or delay its onset, through eating a healthy diet and doing sport exercises through its women program. This activity was organized in partnership with the Nursing faculty in Hebron university, union of social workers, and Yes theater based in Hebron. More than 70 women were targeted in this activity who came from different marginalized areas in governorate of Hebron including the Southern area, Amrish, Al-Koum, Sikkah, Al-Samou', and Karma.
The women received a full explanation about how to  conduct self-examination and instructions on the most important health centers specialized in conducting an early examination. In addition, raising awareness and stress relief activities on mental health of women were organized to  raise  awareness of women about mental health and the importance of early detection of breast cancer. There was also a purposeful and stress relief theatrical performance. Many corners were placed presenting issues of healthy nutrition and mental health and how can people take care and adhere to these issues. There was a corner for examining   blood pressure and diabetes.
The participation of women groups of AAP was through its project "Valiance -Basala -Empowering women in old City of Hebron(H2)" funded by Australian Department of Foreign Affairs and Trad. This project seeks to economically empower Palestinian women to address reasons of their vulnerability and lack of gender quality in the community. It also aims to raise awareness of women on legal and health issues, organize advocacy campaigns to defend women's rights, strengthen their rights and ensure a healthy and dignified life for them under protection threats they face in the southern area and other places in the south of West Bank.
Background Information
ActionAid in Palestine (AAP) is a part of global federation working for social justice and gender equality and eradicate poverty in more than 45 countries around the world. AAP started its work in Palestine in 2007 to strengthen the resilience of Palestinian People as ActionAid believes that they should enjoy their rights to freedom, justice and self-determination. AAP implements a number of programs through its engagement with communities and women and youth groups seeking to empower them and enhance their influential civil and political participation to understand their rights and undertake collective activism to address the protracted rights violations resulting from the prolonged occupation of Palestine. AAP works simultaneously to enhance their leadership capacity and knowledge to practice their citizenship in holding authorities and other duty bearers to account.
For more information, please contact
Riham Jafari
Coordinator of Advocacy and Communication in Palestine
Mobile:
+972 (0) 595242890
Office:
+972 (0) (2) 22 13 137
Email: Riham.Jafari@actionaid.org