ActionAid Palestine to Support Summer Activities Promoting Right of children to Paly and Learning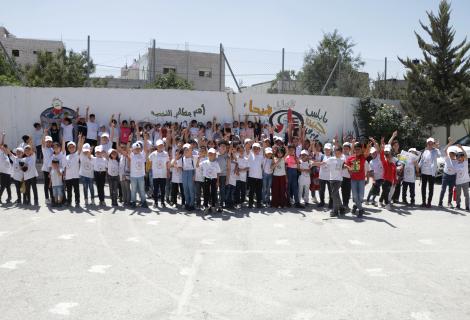 Hebron-West Bank- ActionAid Palestine (AAP) supported a summer camp for children titled with "Having Determination towards Peak". This camp targeted 100 children from the southern area in Hebron Governorate through AAP's program of "Child Sponsorship" in partnership with the Palestinian ministry of education. This camp aimed at compensating the educational loss and basic skills that students could not acquire during the past two years due to closure of schools through COVID-19. Learning activities of the summer camp that will last for 12 days will be accompanied by playing and entertainment activities.
This summer camp includes different coroners as educational classes, theater, arts, handicrafts, educational games, life skills and sports. Through those corners, children enjoyed participating in many educational, recreational, counseling and awareness activities. 
There are many violations to right of children to education in this area due to prolonged occupation and settlers' violence. Those violations include checkpoints that impede students from reaching schools, raiding schools, throwing tear gas and stun grenades. Students are sometimes exposed to detention and arrest. They are also beaten sometimes in their way to schools.
Rama Abu Quder is a student participating in this summer camp says: "the camp is interesting because it provided us with space for playing and learning. We are exposing to violations by occupation as throwing tear gas. However, this camp encourages us to learn and to be strong and we have learned that determination is needed for reaching peak". 
Mohammad Abu Sinenah is participant in the camp says: "we have learned values of respect. I have participated in drawing and enjoyed my right to playing. I have learned a lot. I wish to participate in these kinds of camps next year".