Palestinian youth and international volunteers to Show Solidarity with Palestinian Farmers during Olive Harvest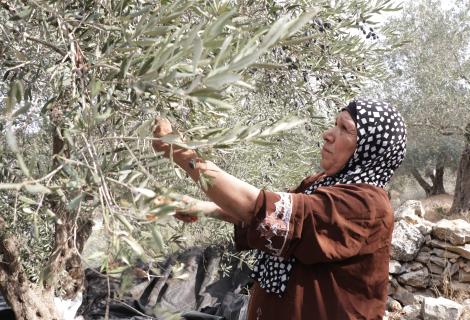 West Bank - Volunteer groups from several European countries and Palestinian volunteers joined farmers to help them in the several areas in Battir, Nahalin, Walaja in the Bethlehem governorate in the south of the West Bank and the town of Surif in the northwest of Hebron governorate. This initiative was implemented by ActionAid in cooperation with ActionAid Greece as part of Teams4E project.
Youth participated in these activities to show solidarity with Palestinian farmers who own agricultural land in the areas adjacent to the Israeli settlements located in Area "C", that frequently suffer from Israeli settler violence.
Raed Kattoush is a Palestinian farmer who owns land in the Battir area saying: "olive trees are not only affected by settlement, but also by the climate crisis and high temperatures affecting trees. My land was full of crops, but climate drought and warming have dried trees and reducing their productivity".
Amal Kattoush, a Palestinian farmer from Battir area, says: "we suffer from harassment imposed by the Israeli authorities, they do not allow us to reach our land, they release harmful animals into our lands. We suffer from delay in rains and high temperature, which affects the crop and the product".
Yan, a young man from the group of international volunteers, says: "We came to help Palestinian farmers to strengthen their survival and resilience on this land under the violations they are subjected to every day as land confiscation and displacement."
According to the OCHA, nearly half of the Palestinian agricultural land planted in the West Bank is planted with 10 million olive trees. The olive oil industry reportedly supports the livelihoods of more than 100,000 Palestinian families and accounts for a quarter of the gross agricultural income of the occupied territories, uprooted trees mean less income, and fewer opportunities for Palestinian families.
Palestinians view olive season as a time for joy and family gathering. However, this reality changed after a time of increasing attacks by Israeli settlers against Palestinian farmers and their families. According to the OCHA, at least 22 incidents that resulted in injuries or property damage. Over 800 olive trees were burnt, or otherwise damaged, and large amounts of produce were stolen by people known or believed to be settlers.
Background Information
ActionAid in Palestine (AAP) is a part of global federation working for social justice and gender equality and eradicate poverty in more than 45 countries around the world. AAP started its work in Palestine in 2007 to strengthen the resilience of Palestinian People as ActionAid believes that they should enjoy their rights to freedom, justice and self-determination. AAP implements a number of programs through its engagement with communities and women and youth groups seeking to empower them and enhance their influential civil and political participation to understand their rights and undertake collective activism to address the protracted rights violations resulting from the prolonged occupation of Palestine. AAP works simultaneously to enhance their leadership capacity and knowledge to practice their citizenship in holding authorities and other duty bearers to account.
For more information, please contact
Riham Jafari
Coordinator of Advocacy and Communication in Palestine
Mobile:
+972 (0) 595242890
Office:
+972 (0) (2) 22 13 137
Email: Riham.Jafari@actionaid.org