ActionAid Palestine and Tel-Rumeida Community to Receive Deputy of Australian Representative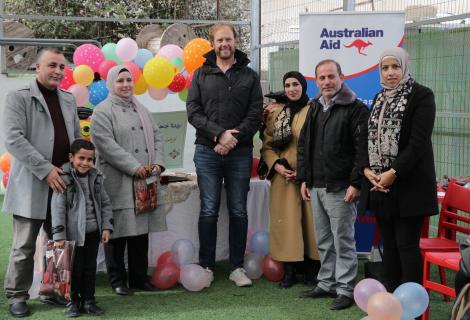 Hebron - West Bank – The staff of ActionAid Palestine (AAP), representatives of Tel Rumeida community in area of Hebron's Old city, members of Ibrahim Al Khalil association and representative of Hebron governorate welcomed and expressed their thank for the visit of the deputy of Australian Representative to Palestinian Authority, Craig Gilbert to their neighborhood.
Mr.Gilbert accompanied by staff of AAP had met with those representatives in the center of Ibrahim Al Khalil association where they expressed their appreciation and thank to support provided by Australian Department of Foreign Affairs and Trade (DFAT) through AAP's project of "Valiance -Basala -Empowering women in old City of Hebron(H2)" that seeks to enhance conditions of women in this area. They also briefed the Australian diplomate about challenges and difficulties they face including Israeli settlers' violence, existence of Israeli checkpoints that imped their movement and access to basic services. Mr. Glibert expressed his thank for their warm welcoming and reception stressing Australia's support for Palestinians.
After that, he was accompanied by representatives of Tel-Rumeida community and AAP staff to kindergarten of Ibrahim Al-Khalil that was supported by DFAT through AAP to allow children living in this area enjoy their right to education.
The principal of this kindergarten briefed Mr.Gilbert and his delegation about the educational services provided to children and challenges facing children and educational process in this area. The importance of the existence of this kindergarten was stressed as it helps them to overcome dangers of joining other kindergartens outside their neighborhood and passing through Israeli checkpoints placed on entries of their area. In addition, the kindergarten is a safe space for these children who are regularly harassed by settlers and soldiers at Israeli military checkpoints. Children can learn, play and enjoy their childhood. Mr. Gilbert and AAP joined the parents of the children, teaching staff of kindergarten and residents of Tel -Rumeida to celebrate the end of first semester in the kindergarten.
At the end of the visit, the deputy of Australian Representative met with a number of women benefiting from AAP's project to listen to their challenges and know more about their needs. Women collectively stated that they suffer from movement restrictions imposed in this areas . They also expressed their thank to Australian support through AAP's project stressing that fact that this support has changed their lives and strengthened their community presences and participation. They also pointed to the great impact of activities of this project as trainings and economic empowerment activities in overcoming difficulties they face  and how these activities make them active and productive community members. Women expressed their satisfaction towards the credibility of AAP's approach for empowering women which closely monitors and follows their development and empowerment.
AAP has supported this kindergarten that serves more than 20 students. This support includes renovating this facility, as well as equipping it with furniture, toys and educational tools.
Supporting this kindergarten of Ibrahim Al-Khalil association serves the goal of AAP's project of Valiance -Basala which seeks to economically empower Palestinian women to address reasons of their vulnerability and lack of gender equality in the community. It also aims to raise awareness of women on legal and health issues, organize advocacy campaigns to defend women's rights, strengthen their rights and ensure a healthy and dignified life for them under protection threats they face in the southern area and other places in the south of West Bank.  
Background Information
ActionAid in Palestine (AAP) is a part of global federation working for social justice and gender equality and eradicate poverty in more than 45 countries around the world. AAP started its work in Palestine in 2007 to strengthen the resilience of Palestinian People as ActionAid believes that they should enjoy their rights to freedom, justice and self-determination. AAP implements a number of programs through its engagement with communities and women and youth groups seeking to empower them and enhance their influential civil and political participation to understand their rights and undertake collective activism to address the protracted rights violations resulting from the prolonged occupation of Palestine. AAP works simultaneously to enhance their leadership capacity and knowledge to practice their citizenship in holding authorities and other duty bearers to account.
For more information, please contact
Riham Jafari
Coordinator of Advocacy and Communication in Palestine
Mobile:
+972 (0) 595242890
Office:
+972 (0) (2) 22 13 137
Email: Riham.Jafari@actionaid.org