ActionAid Palestine to Launch Awareness campaign "Digitalizing Women's Skills" for Entering Labor Market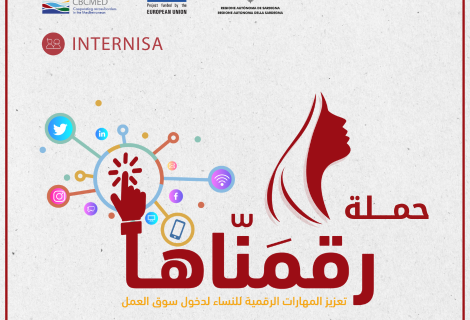 Hebron-West Bank – ActionAid Palestine (AAP) launched an awareness campaign titled with "Digitalizing Women's skills" for entering labor market in partnership with Radio Nissa FM within INTERNISA project - Developing the INTERNISA network of synergies to increase the number of digitally skilled women employed in the ENI CBC MED territories via matching demand and supply in the labour market.
This campaign aims to essentially motivate and raise awareness of businessmen and public sector employees who advertise job opportunities to adopt best practices and effective policies that promote women's empowerment and improve their digital skills. Through its media activities, the campaign will also present the latest statistics on women's participation in the labor market, the unemployment rate among women. It will also discuss the means that could be used to reduce that rate. The campaign will contribute to improving access of young women and employers to employment-related information in the sectors that interest them.
The campaign focuses on encouraging young women and businessmen/employers to utilize offline spots established by the project in the chambers of commerce in the governorates of Hebron and Bethlehem and portal, mobile app to facilitate access to devices and information to gain knowledge about current technologies, learn how to search for and collect information, and learn how to use job platforms, searching for a job, posting job offers and writing resumes. The campaign will also show success stories of young women benefiting from the project's activities, especially digital trainings aiming to build and develop their digital and personal capacities through interaction between people and establishing cooperation between the various relevant actors in the labor market.
INTERNISA project aims to bridge the digital gender gap and provide marketable digital skills in Mediterranean territories by developing a network and a portal that brings closer the demand and supply of the labour market.  providing women with digital skills, and delivering professional training in the agri-food, financial, textile, and tourism sectors. The project develops online, and offline services addressed to women and employers providing training curricula and personal consulting. Project activities will culminate with interventions related to matchmaking of labour demand and supply through an online platform and job fairs to foster contacts among job seekers and employers.
Background Information
ActionAid in Palestine (AAP) is a part of global federation working for social justice and gender equality and eradicate poverty in more than 45 countries around the world. AAP started its work in Palestine in 2007 to strengthen the resilience of Palestinian People as ActionAid believes that they should enjoy their rights to freedom, justice and self-determination. AAP implements a number of programs through its engagement with communities and women and youth groups seeking to empower them and enhance their influential civil and political participation to understand their rights and undertake collective activism to address the protracted rights violations resulting from the prolonged occupation of Palestine. AAP works simultaneously to enhance their leadership capacity and knowledge to practice their citizenship in holding authorities and other duty bearers to account.
For more information, please contact
Riham Jafari
Coordinator of Advocacy and Communication in Palestine
Mobile:
+972 (0) 595242890
Office:
+972 (0) (2) 22 13 137
Email: Riham.Jafari@actionaid.org