ActionAid Palestine to Launch Climate Justice Campaign in Palestine "Fund our Future"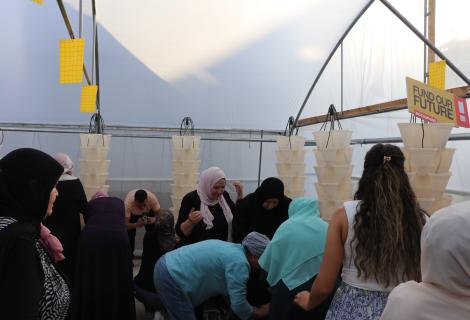 Highlighting Climate Crisis in Palestine
Bethlehem – ActionAid Palestine launched today climate justice campaign: "Fund our Future" as a part of Global climate Justice Campaign Launched by ActionAid International Federation. The campaign was launched with open multi-channel - Media Wave (Radio,TV and Social media ) through Wattan Media Networks and through awareness workshop and planting seedlings in water basins with the women.
The open media wave highlighted an international report issued by ActionAid International on the causes fuelling the climate crisis. The report revealed that the causes fuelling the climate crisis are receiving an annual average of 20 times more financing than the solutions. The open wave also discussed the Israeli practices committed against the Palestinian environment and the importance of taking urgent educational and policy actions for addressing the climate change crisis, adopting environmentally friendly practices, and emphasizing the importance of engaging youth and women in climate action by supporting their green initiatives and skills.
The campaign launch activities also included an awareness workshop on agroecology and hydroponic, in cooperation with the "Rehana Cooperative for Agricultural Production and Processing" in Beit Jibrin camp in Bethlehem governorate in the south of Occupied West Bank. This activity targeted more than 30 refugee women and a number of young volunteers. During the workshop, women and youth were introduced to the global climate justice campaign launched by ActionAid International and its themes in Palestine and impact of climate change on the environment and Palestinian society. After that, the participants planted leafy seedlings in water basins to raise community awareness, especially among youth and women, about the importance of adopting hydroponic systems as one of the modern environmental agriculture systems needed for addressing the climate crisis in Palestine. Hydroponic system has efficiency based on growing crops in water without soil, while it depends on some natural fertilizers with varying quantities for producing low -cost and quality vegetables and fruits in small and limited spaces. This kind of agriculture seeks to utilize the spaces as rooftops in Palestinian refugee camps, to increase green spaces, empower women economically, and overcome the problem of water scarcity in Palestine.
AAP supports the Rehana cooperative by supporting its raising awareness and environmental agriculture activities targeting refugee women. Shatha Al-Azza, the head of the Rayhana Cooperative, talks about the importance of hydroponic activity: "We planted today around 800 seedlings of green crops through hydroponic to promote environmentally friendly practices to reduce carbon dioxide emissions and other gases causing global warming and exacerbating the climate change crisis. Planting those crops contributes to achieving partial food sovereignty and has a positive impact on the physical and psychological health of the refugees in the camp. Hydroponics also helps refugee women and youth to utilize rooftops to increase green spaces and provide them with opportunities to grow crops to be sold in the local market and increase their income".
Sameera Abu Srur is a refugee woman residing in Beit Jibreen talked about the benefits of the is cooperative: "my membership in this cooperative has strengthened my self-confidence and motivated me to utilize the rooftop of our house for planting vegetables. I have learned the best practices for growing my home plants". 
Aida Shokeh is a member in Rehana cooperative says: "It was very important for me to get new information about best practices for planting seedlings through hydroponics on rooftop of my house to secure the provision of basic vegetables and achieve food self-sufficiency for my family and contribute to mitigate impacts of climate change".  
Background Information
ActionAid in Palestine (AAP) is a part of global federation working for social justice and gender equality and eradicate poverty in more than 70 countries around the world. AAP started its work in Palestine in 2007 to strengthen the resilience of Palestinian People as ActionAid believes that they should enjoy their rights to freedom, justice and self-determination. AAP implements a number of programs through its engagement with communities and women and youth groups seeking to empower them and enhance their influential civil and political participation to understand their rights and undertake collective activism to address the protracted rights violations resulting from the prolonged occupation of Palestine. AAP works simultaneously to enhance their leadership capacity and knowledge to practice their citizenship in holding authorities and other duty bearers to account.
For more information, please contact
Riham Jafari
Coordinator of Advocacy and Communication in Palestine
Mobile:
+972 (0) 595242890
Office:
+972 (0) (2) 22 13 137
Email: