ActionAid Palestine to Support Economic and Environmental Initiatives for Refugee Women in Aida and Beit Jibreen Camps.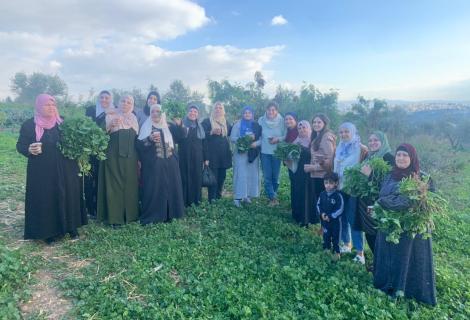 Bethlehem – Palestine- Through the project of "Strengthening Palestinian young people, Particularly Young Women's Leadership and Influence for Resilient, Just and Green Societies "Within Strategic Partnership 2 with ActionAid Denmark and funded by the Danish International Development Agency (DANIDA),  ActionAid Palestine (AAP) supported an initiative for women by implementing a winter camp targeting more than 40 women from the Palestinian refugee camps of  Aida and Beit Jibrin in Bethlehem governorate in the south of West Bank. This initiative was implemented in cooperation with Rayhana Cooperative and Aida Camp Services Committee. The camp which lasted for three days aimed at raising awareness of women about environmental, psychological and agricultural-environmental issues and giving them the opportunity to do some economic work to overcome the difficult economic conditions.              
Activities of this winter camp sought to enhance social cohesion among women by encouraging them to adopt approach of cooperatives and increasing networking between women's organizations and groups in refugee camps in Bethlehem governorate. Moreover, activities of this camp were designed to mitigate impact of psychological stresses refugee women suffer from resulting for increasing Israeli night raids to refugee camps.
The camp included several folkloric, economic and entertainment activities and field tours, through which women were introduced to the components of Palestinian heritage and identity. It also included economic empowerment activities and trainings, such as food processing of daily income-generating food products including soaps, sweets, and traditional products. At the end of the camp, the women were introduced to the concept and principles of cooperatives, especially agricultural ones and their role in promoting economic independence among refugee women and overcoming the impact of climate change and increasing green spaces.
This camp allowed women to visit some agricultural cooperatives in the city of Ramallah in the middle of West Bank and farms for hydroponics in the village of Al-Janiya to show them the models of agricultural cooperatives by visiting Umm Suleiman's farm.
Refugee women in refugee camps in the West Bank suffer from a state of anxiety, fear and constant tension due to the repeated Israeli incursions into those camps. Women continually have feelings of fears of losing and arrest of their sons, daughters and brothers while going to schools or going outside during night and sudden military raids to camps.  
ActionAid 's Project of "Strengthening Palestinian young people, Particularly Young Women's Leadership and Influence for Resilient, Just and Green Societies" seeks to enhance the role of young men and women and actors in the field of environment and climate and enable them to lead and implement actions and initiatives that seek to build green societies. The project also aims to promote environmental practices among Palestinian youth and enhance their role in preserving the Palestinian environment and protecting the land".
This project provides Palestinian youth with sufficient space to implement their green initiatives and find environmental solutions to climate issues. It also supports and enhances the role of young women, especially in marginalized areas, by empowering them to find sustainable sources of livelihood and enhancing their role in holding the relevant authorities accountable to play their role in the matter of climate.
Background Information
ActionAid in Palestine (AAP) is a part of global federation working for social justice and gender equality and eradicate poverty in more than 45 countries around the world. AAP started its work in Palestine in 2007 to strengthen the resilience of Palestinian People as ActionAid believes that they should enjoy their rights to freedom, justice and self-determination. AAP implements a number of programs through its engagement with communities and women and youth groups seeking to empower them and enhance their influential civil and political participation to understand their rights and undertake collective activism to address the protracted rights violations resulting from the prolonged occupation of Palestine. AAP works simultaneously to enhance their leadership capacity and knowledge to practice their citizenship in holding authorities and other duty bearers to account.
For more information, please contact
Riham Jafari
Coordinator of Advocacy and Communication in Palestine
Mobile:
+972 (0) 595242890
Office:
+972 (0) (2) 22 13 137
Email: Riham.Jafari@actionaid.org