Palestinian Refugee Youth to Commemorate 75th Anniversary of Nakba by showing Solidarity with Residents of Masafer Yatta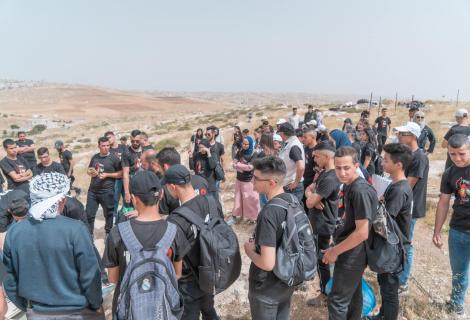 Hebron-West Bank –Palestinian refugee youth commemorated the 75th anniversary of Nakba by visiting Masafer Yatta in the southern occupied West Bank that is at risk of forced evictions and forcible transfer. Nakba, meaning "the catastrophe" in Arabic, which refers to the displacement, depopulation, and despair of hundreds of thousands of Palestinians in 1948.
The Palestinians commemorate the Nakba on May 15 by remembering forcible displacement that took place 75 years ago, uprooting of over 750,000 Palestinians from their homeland, destructing of more than 400 villages and towns and the killing of thousands of others. The 75th anniversary of the Nakba came at a critical time of increasing Israeli military escalation against Gaza Strip that lasted for five days and resulted in death of at least 33 Palestinians, including 3 women and 6 children. After 75 years of the Nakba, Palestinians continue witnessing the Nakba through Israeli policies of excessive use of force against civilians, arresting of children and youth, forced displacement, looting of natural resources, annexation, repression, denial of residency, segregation, fragmentation and isolation, home demolitions, and the imposition of discriminatory planning and permit systems.
ActionAid Palestine supported this youth mobilization to lead solidarity and advocacy actions with other Palestinians who are at risk of displacement. Those advocacy actions also aim to remind the international community of Palestinian Nakaba and right to return according to the international UN resolution 194. During this activity, Palestinian youth showed skills of leadership as youth themselves design and implement this initiative.
Youth from refugee camps in Bethlehem area and other areas gathered at the entrance of Aida refugee camp that is marked with existence of large key which is a peaceful symbolic representation of this right to return. Then, they headed to Masafer Yatta to start their solidarity actions by planting trees and exchanging experiences of displacement.
The head of the village council of al-Tuwani village in Masafer Yatta, Hafiz Herni  welcomed the youth and thanked them for their solidarity saying: "  thanks to refugee youth who came to plant trees to strengthen our existence and connectedness to this land"  " the land means everything for me , it is life , history, dreams and future . This solidarity visit means a lot for us as we are originally a refugee family that was displaced in 1948 and we came here to al-Tuwani village in Masafer Yatta. We still feel that Nakaba is ongoing as our lands are still being targeted".
Munther Amirah, a Palestinian refugee youth activist from Aida refugee camp, we came here to Masafer Yatta to share with its residents the experiences of displacement that we and our ancestors have bee experiencing since 1948. Masafer Yatta represents another Nakbah".
Rayan Abu Sror is a refugee young woman from Aida refugee camp participating in this solidarity visit said: "this visit is a solidarity action and planting trees is one of the means of resistance expressing the love of Palestinians to their land specially in the anniversary of Nakba and Masafer Yatta is an example of ongoing Nakba as it faces the forcible displacement that our ancestors faced in 1948".
Masafer Yatta is home to twelve Palestinian villages totaling about 2,800 residents and they are agricultural communities that have lived there for generations. The Israeli army declared this area as "Firing Zone 918, in the early 1980s in grave violation to the international law, which prohibits the expulsion of a population from its land and the use of occupied land for military training. Families in Masafer Yatta are denied access to their land, roads, sources of water, schools, medical services, and hospitals. They also daily suffer from violence from settlers.
On May 4th, 2022, the Israeli High Court issued its final decision in the decades-long case, rejecting the residents' petition and giving the army the green light to forcibly evict these communities at a moment's notice.
ActionAid stresses the fact that the rights of self-determination, freedom, and independence of Palestinians should be respected. We call the international community to continue providing full support to Palestinian people to regain their rights as per the international law and UN resolutions.
Background Information
ActionAid in Palestine (AAP) is a part of global federation working for social justice and gender equality and eradicate poverty in more than 45 countries around the world. AAP started its work in Palestine in 2007 to strengthen the resilience of Palestinian People as ActionAid believes that they should enjoy their rights to freedom, justice and self-determination. AAP implements a number of programs through its engagement with communities and women and youth groups seeking to empower them and enhance their influential civil and political participation to understand their rights and undertake collective activism to address the protracted rights violations resulting from the prolonged occupation of Palestine. AAP works simultaneously to enhance their leadership capacity and knowledge to practice their citizenship in holding authorities and other duty bearers to account.
For more information, please contact.
Riham Jafari
Coordinator of Advocacy and Communication in Palestine
Mobile:
+972 (0) 595242890
Office:
+972 (0) (2) 22 13 137
Email: