Anwar Mansarah: Model of the Role of Entrepreneurship in Empowering Women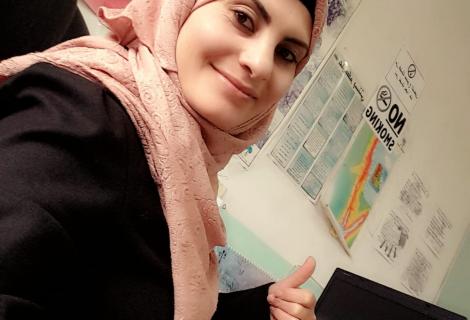 19th of November is Women's Entrepreneurship Day. On this occasion, we celebrate the achievements of Palestinian women entrepreneurs who overcome challenges and establish their enterprises. Entrepreneurship promotes the status of women, develops the community providing it with good services.
Anwar Manasrah (26 years old) is a Palestinian young woman entrepreneur and mother of two children. She lives in the town of Bani Na'aim in the south of West Bank. She has B.A degree in agricultural engineering.  Anwar started her enterprise that She called "Bait Al-Makdes stationary and educational center" which is the first of its kind in her area.
Anwar seeks to support the right of children and youth to quality education. The center is serving  5 schools (more than 2,000 students) from the area. It provides students and schools with stationary and supplies as well as services of  educational research and games. The availability of those services encouraged all students to come to the center to have what they need in the same place.
Anwar expressed her happiness towards establishing this enterprise saying: "I'm happy now because I'm making profits because of the huge number of students and also I'm happy because I'm serving the students to get what they need for a reasonable price".
Anwar aspires to develop her enterprise  saying "I will not stop dreaming, I will work hard on my project hoping that I will have all goods and services requested by the students, where this center will be the only center in the area providing everything to them. Cooperation is the foundation for success, work and perseverance, which will end in achieving your goals".
Anwar thanked ActionAid Palestine for such type of work they are doing where vulnerable people can dream more and can achieve their dreams.
Anwar's enterprise  was supported by AAP after she succeeded in Tafawoq youth competition that AAP's project of "Social Innovation" funded by Italian Agency for Development Cooperation implemented to select entrepreneurial enterprises. Successful enterprises were selected according to criteria of the use of innovative and effective solutions which qualitatively impact and create changes in the lives of individuals and their local communities.
"Social Innovation" project  aims to combat unemployment among youth, build their professional capacities needed for labor market and promote their economic resilience of their communities as marginalized communities in eight neighborhoods in governorates of Bethlehem and Hebron in the south of the West Bank. This project provides young entrepreneurs with specialist training services to help them to deepen their understanding for the concepts and skills of entrepreneurship and social enterprise. In addition, trainings will build their capacities in different fields including means of market research, planning, designing work plans, management of profitable enterprises, financial management and skills of searching information.
Background Information
ActionAid
ActionAid is a global federation working for social justice and gender equality and eradicate poverty. ActionAid works worldwide to empower people living in poverty and exclusion with focus on women's rights .ActionAid works directly and closely with communities, civil society organizations, women movements and social groups and movements and other allies to tackle root causes of poverty and oppression. ActionAid deliver grassroots programmes to utilize efforts of global struggle movements working for a just, fair and sustainable world. Based on human rights-based approach and women rights' principles, ActionAid seeks to fairly re-distribute powers through solidarity, empowerment, awareness campaigns and creating alternatives to ensure that everybody enjoys the right to a life of dignity, and freedom from oppression.
ActionAid in Palestine (AAP) is a part of that federation which started its work in Palestine in 2007 to strengthen the resilience of Palestinian People as ActionAid believes that they should enjoy their rights to freedom, justice and self-determination. AAP implements a number of programs through its engagement with communities and women and youth groups seeking to empower them and enhance their influential civil and political participation to understand their rights and undertake collective activism to address the protracted rights violations resulting from the prolonged occupation of Palestine. AAP works simultaneously to enhance their leadership capacity and knowledge to practice their citizenship in holding authorities and other duty bearers to account.
For more information, please contact
Riham Jafari
Coordinator of Advocacy and Communication in Gaza Strip and West Bank
Mobile:
+972 (0) 595242890
Office:
+972 (0) (2) 22 13 137
Email: