Being a Refugee for Third Time: Palestinian Refugee continue Facing Forcible Displacement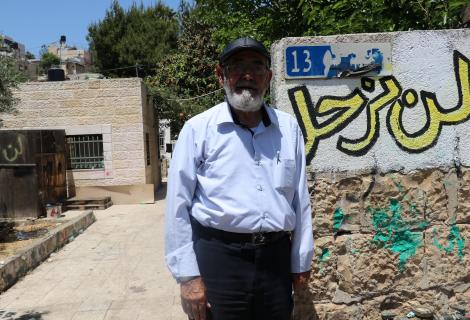 20th of June marks World Refugee Day. There are today more than 13.05 million Palestinian refugees who are scattered around the world, 4.91 million living in the Occupied Palestinian Territory (OPT), 1.57 million still live inside the Greenline in 1948, and 6.567 million in exile and diaspora.
World Refugee Day for this year coincides with increasing Israeli policies of forcible eviction practiced against Palestinians in occupied West Bank and East Jerusalem. It also came after intensive bombing of Gaza during the last month causing death of 256 Palestinians, including 66 children and 40 women. At the height of the escalation, 113,000 internally displaced people (IDPs) sought shelter and protection at UNRWA schools or with hosting communities.  
Nabeel Al-Kurd ( 77 years old), is  one of the residents of the neighborhood of Sheikh Jarrah that faces forcible eviction in East Jerusalem. Nabeel became a refuge for the third time. He says : "  I was  first forced out of my home in Haifa to Jerusalem during Nakba, or Catastrophe 1948 .The second time is when Israeli authorities gave me a notification of demolition of my home and gave half of it to Israeli settlers and third time will be the enforcement of the decision of eviction by Israeli court . But we will not leave, this is not displacement, it is forcible uprooting".
"I live most of my life in this house, I lived my childhood and younghood, I was raised here. I grew up here. I studied here and got married in this house. This house witnessed the birth of my children". 
Nabil's family and three other families in Sheikh Jarrah are worried about their future and are waiting for Israel's Supreme Court to reach a verdict in the eviction case against them. The court had recently postponed its decision.
Half of his house was taken over by Israeli settlers after a legal battle in 2009. A wall now divides him and his family from the settlers.
Mariam Al-Ghawi (60 years old) is a Palestinian woman who was displaced from her house.  40 members of her family were evicted from their building based in Sheikh Jarrah that they have lived for years. She was forced to leave her house in 2009, which is currently occupied by Israeli settlers under protection of Israeli forces and discriminatory court decisions. For more than 11 years, Mariam comes every day to Sheikh Jarrah to sit-in in front of her stolen house expressing her refusal to this confiscation and demanding to regain her house. Mariam says, "it is my right to return to my home where four generations of my family member are there. I will continue protesting and demanding my right".
Their journey of displacement began in 1948 when more than 700,000 Palestinians were displaced from their homes during Nakbah. 28 families settled in the Sheikh Jarrah neighborhood in 1956 according to agreement signed by Jordan and the United Nations Relief and Works Agency (UNRWA) for Palestine Refugees. Since 1972 the Israeli settlement associations started filing lawsuits claiming ownership of these homes.
Some homes in Sheikh Jarrah neighborhood were occupied by settlers who continually harass the Palestinian residents of this neighborhood. There are now 12 Palestinian families that have received eviction orders issued by the Israeli central and magistrates courts.
Palestinian young people from Sheikh Jarrah and other neighborhoods organize social media campaigns and other art and popular activities to raise awareness about their case and tell the world their story of daily displacement.
 Background Information
ActionAid in Palestine (AAP) is a part of global federation working for social justice and gender equality and eradicate poverty in more than 45 countries around the world. AAP started its work in Palestine in 2007 to strengthen the resilience of Palestinian People as ActionAid believes that they should enjoy their rights to freedom, justice and self-determination. AAP implements a number of programs through its engagement with communities and women and youth groups seeking to empower them and enhance their influential civil and political participation to understand their rights and undertake collective activism to address the protracted rights violations resulting from the prolonged occupation of Palestine. AAP works simultaneously to enhance their leadership capacity and knowledge to practice their citizenship in holding authorities and other duty bearers to account.
For more information, please contact
Riham Jafari
Coordinator of Advocacy and Communication in Palestine
Mobile:
+972 (0) 595242890
Office:
+972 (0) (2) 22 13 137
Email: