Demonstrating Youth Leadership with COVID-19 Youth-Led Digital Engagement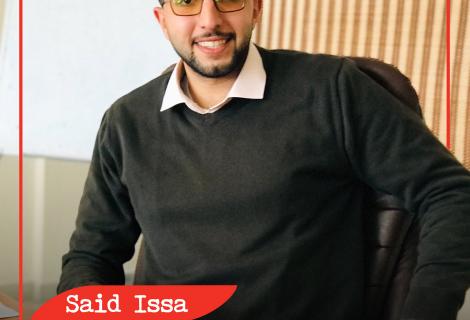 Said Issa is a Palestinian young man (22 years old) living in Rafah Governorate in the south of besieged Gaza Strip. Said is a university student studying law and international law. Said supports his academic background with his humanitarian and community activism by joining many organizations in implementing right and community activities. Those activities offer youth the opportunity to serve their community and sharpen their knowledge with practical experience.
Said had the opportunity to participate in strategic thinking program that is implemented by the Palestinian Centre for Policy Research and Strategic Studies (MASARAT) in partnership with ActionAid Palestine (AAP) through its program of "Civil and Democratic Participation of Palestinian Youth". The educational and training activities of that program aim to build youth capacities, enhance their skills, and strengthen their connectedness to their community. Said expresses his happiness towards participation in this program saying: "those activities have provided me with knowledge about national issues of concerns to all Palestinians. They also allowed me to meet my pioneers from West Bank, Gaza Strip and Green Line".
Said is an active volunteer joining many community initiatives and organizations believing in the importance of voluntary work in building community and improving skills of youth. Said says: "voluntary work has strengthened my leadership and entrepreneurship skills, my giving and community affiliation. It also increased community confidence in young people and their capacities to serve it. Volunteering promoted principles of social responsibility which motivate me to continue my community activism for developing my society and making change for better society".   
COVID-19 crisis has not stopped Said's community activism, while it has motivated him to search for the best tools for utilizing his time at home during lockdown resulting from the state of emergency that had been declared in Palestine. This new reality pushed Said to participate in "COVID-19 Youth-Led Digital Engagement" project AAP launched in end of 2020. The purpose of the project is to leverage the use of the technology to support the work of young people in the fields of community accountability and youth issues. Through the creation and promotion of digital engagement tools in Occupied Palestinian Territory(oPt) including West Bank, Gaza Strip, young people are offered the space to meet with each other despite lockdown caused by outbreak of COVID-19 in oPt and Israeli checkpoints separating the Palestinian cities from each other. Said expressed his towards this opportunity: "this project allowed me to meet my Palestinian youth pioneers from different places and introduced me to the common issues of concerns to Palestinian youth and young influencers enriching my knowledge and experience in developing solutions to community problems". 
  After receiving many trainings through the project of "COVID-19 Youth-Led Digital Engagement", Said's influence among his young pioneers and community in his area has been improved. Those trainings included training of trainers, facilitating digital campaigns, collecting and analyzing data, designing surveys, disseminating information and organizing electronic advocacy and writing fact sheets. Said sends messages to his young pioneers calling them to essentially utilize the available digital tools for promoting the culture of community work and civil peace and tolerance, respect of women rights as means for developing community. 
Said highlighted his participation in this project; "this project has helped me to develop my social media content seeking to raise the demands and concerns of the marginalized groups and enhancing my personal and professional skills in leading trainings".
Background Information
ActionAid in Palestine (AAP) is a part of global federation working for social justice and gender equality and eradicate poverty in more than 45 countries around the world. AAP started its work in Palestine in 2007 to strengthen the resilience of Palestinian People as ActionAid believes that they should enjoy their rights to freedom, justice and self-determination. AAP implements a number of programs through its engagement with communities and women and youth groups seeking to empower them and enhance their influential civil and political participation to understand their rights and undertake collective activism to address the protracted rights violations resulting from the prolonged occupation of Palestine. AAP works simultaneously to enhance their leadership capacity and knowledge to practice their citizenship in holding authorities and other duty bearers to account.
For more information, please contact
Riham Jafari
Coordinator of Advocacy and Communication in Palestine
Mobile:
+972 (0) 595242890
Office:
+972 (0) (2) 22 13 137
Email: