Hamad Samamreh : Model for Challenging Disability and Having Successful Advocacy Tools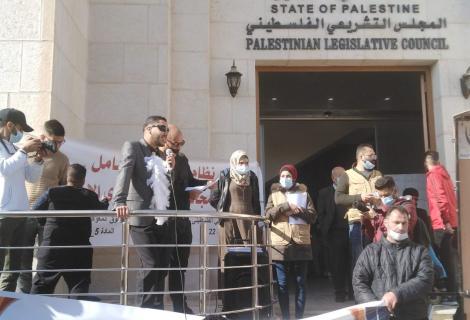 Hammad has a full visual impairment, but this disability did not impede him from participating in collective actions and sit-ins aiming to demand a comprehensive health insurance for Palestinian People with Disabilities (PwDs). This disability motivates him to join many trainings and youth activities to engage in demanding the duty bearers and governmental ministries to improve the living conditions of People with Disabilities (PwDs).
Hamad is 21 years old living in the town of Al-Thahria, in the south of West Bank. He is studying social work. Hamad is an active youth member leading some youth groups in the south of West Bank and the, foremost among them is ActionAid Palestine (AAP) youth group that was established through AAP's program of "Civil and Democratic Participation of Palestinian Youth".
Hamad highlighted that impact of the membership of groups on his life saying: "This membership had given me an opportunity to participate in many advocacy campaigns and trainings where I gained experiences in leading sit-ins and campaigns. I also learned means used for claiming our legitimate rights particularly tools of advocacy and lobbying campaigns. I started advocating for the rights of the group of PwDs and other groups which I belong to".
Hamad utilized this knowledge in advocacy tools in joining his colleagues for organizing a sit-in in Palestinian Legislative Council (PLC) in the occupied West Bank city of Ramallah last year. The sit-in lasted for 64 days to demand the right to comprehensive health insurance as guaranteed under Basic law.
Hamad stressed the fact that with the outbreak of COVID-19 in Occupied Palestinian Territory(oPt), the pandemic has revealed disparities in healthcare provided to PwDS at the levels of diagnosis, medical treatment and rehabilitation. PwDs called on the Palestinian Authority to abide by the international treaties it has ratified, most notably the Convention on the Rights of Persons with Disabilities (CRPD).
Hamad and his colleagues of  PwDs succeeded in raising  their demands since their protest action were organized after deep research and mobilization. Hamad said: "We decided to look into our demands and our actions we will take. We did some research and individual and group sessions with people with disabilities and their parents to identify our needs and best tools that were used to hold governmental duty bearers accountable for fulfilling our demands".
According to the Palestinian Central Bureau of Statistics, there were some 93,000 people with disabilities in the occupied Palestinian territories in 2019, and the unemployment rate for individuals with disabilities stood at 37 percent in 2017.
According to the data released in 2017 by the Palestinian Central Bureau of Statistics, there are 93,000 persons with disabilities in Palestine, i.e. 2.1% of the total population: 48% in the West Bank and 52% in Gaza Strip. The mobility disability accounted for the highest proportion of disabilities; Also, 20% of persons with disabilities in Palestine are children under 18 years old. The percentage of male children was higher than that of females in the same age group.
The Palestinian Basic Law stipulates that any person with a disability has the right to obtain comprehensive health insurance. The Prime Minister's office finally passed the decree on the 63rd day of the sit-in. This decree stipulates that disability is an eligibility criterion to access healthcare services and requires the government to provide a basket of services, including diagnostic, curative, preventive, and rehabilitation services, in an accessible and dignified way.
Background Information
ActionAid in Palestine (AAP) is a part of global federation working for social justice and gender equality and eradicate poverty in more than 45 countries around the world. AAP started its work in Palestine in 2007 to strengthen the resilience of Palestinian People as ActionAid believes that they should enjoy their rights to freedom, justice and self-determination. AAP implements a number of programs through its engagement with communities and women and youth groups seeking to empower them and enhance their influential civil and political participation to understand their rights and undertake collective activism to address the protracted rights violations resulting from the prolonged occupation of Palestine. AAP works simultaneously to enhance their leadership capacity and knowledge to practice their citizenship in holding authorities and other duty bearers to account.
For more information, please contact
Riham Jafari
Coordinator of Advocacy and Communication in Palestine
Mobile:
+972 (0) 595242890
Office:
+972 (0) (2) 22 13 137
Email: