Khadija Abu Madi: Model of Agricultural Entrepreneurship to Overcome COVID-19 Impacts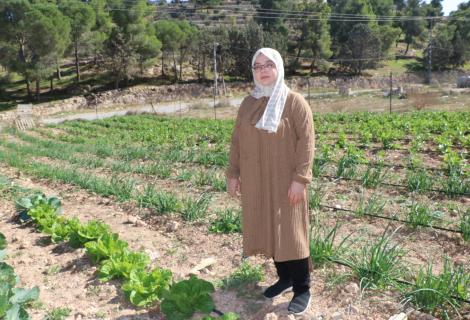 Khadija Abu Madi is a university student and a youth activist living in the southern area of the old city of Hebron (H2) surrounded by Israeli checkpoints that lacks basic services and transportation  .Before the outbreak of COVID-19,  Khadija was a working woman before she lost her livelihood and used to spend her time in  participating in many community activities. Khadija is an active member in a woman group established by Valiance -Basala project. This membership offered her space and opportunity to participate in women activities and receive life trainings as leadership, entrepreneurship and human rights.
(photo of Khdija while she is working in her farm in the southern area in Hebron Governorate in the south of West Bank)
Khadija as other young women in Palestine has negatively been affected by COVID-19 saying "  I am a community activist and the suspension of community activities affected me causing  psychological stress, worry and fear and I was unable to fulfill my basic needs due to lockdown and loss of livelihoods resulting from the spread of COVID-19 in Occupied Palestinian territory(oPt)".