Mohammad Hjoj: Model of Successful Entrepreneurship for Overcoming Unemployment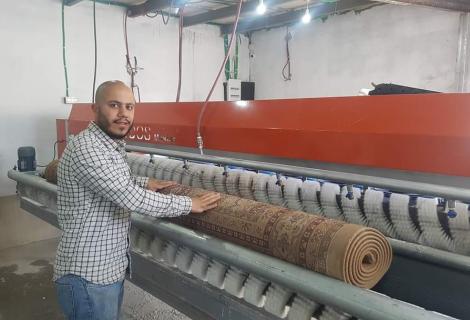 Mohammad Hajjuj, is a young Palestinian refugee from Al Fawwar Camp who graduated from Palestine Polytechnic University with a bachelor degree in civil engineering in 2016. Mohammad began his entrepreneurial Journey during his first cycle of higher education, with "Ratib Omurak" venture, when he received a financial support for his small business from a local organization in 2014.
"Ratib Omurak" started with a bright idea and a glimpse of a gap in the labor market. It started as an employment office to foster employment and to create new job opportunities for the unemployed youth in Al Fawwar Camp. "Ratib Omurak" is acting as a middleman; it helps job seekers in the field of construction and infrastructure in the Hebron governorate to find job opportunity. Through providing workforce, auxiliary services, and support workers for professionals in the heavy civil or heavy engineering, and in return, those job seekers will pay a small amount of money as a commission.
Mohammad started turning his entrepreneurial idea to implementation while he was a university student, by providing paid work opportunities for unemployed youth laborers in Al Fawwar Camp, in the field of landscaping, fieldwork, gardening, loading and unloading construction site supplies and materials, and carrying out other miscellaneous duties and responsibilities around the job site.
At first, Mohammad started his business without capital but only with human resources, and some family support. He said: "My mother gave me her personal car so I can use it to pick up laborers to the worksite". After a while, he trended to the cleaning services market as it includes a wide range of services required by commercial and residential sectors and somehow has high revenue potential.
In 2018, Mohammad participated with his entrepreneurial pilot project "Ratib Omurak" in Tafawoq Competition which aims to support social entrepreneurial and business enterprises led by young people who aspire to improve their economic conditions and serve their communities.
Mohammad decided to develop the services provided by his small business "Ratib Omurak" by offering only professional cleaning services. Therefore, he purchased carpet, upholstery, and tile professional cleaning tools and equipment. Then his project received material support from ActionAid Palestine. Mohammad affirms that, "the trailer box helped to solve many issues related to logistics, and heavy equipment transportation. Now, I can easily pick-up laborers to the worksite without worrying about renting special vehicles for this purpose."
In 2019, "Ratib Omurak" began to grow and develop in a good way, "I have 8 laborers who work periodically in different projects and sites". But in 2020, things got different! Due to COVID-19 pandemic, quarantine regulation, and lockdown, our business has been affected, but we struggled and did our best to adapt and continue providing our services by hiring daily laborers who work on a day-to-day basis." Mohammad explained. The project focuses its work mainly in the Hebron governorate, and sometimes in other governates like; Jericho, Tulkarm, and Bethlehem.
Mohammad attracts his new clients over the phone, he communicates with them, asks them to determine their needs, what their business is about, and the nature of their business. Then, he provides them with the price over the phone. He explains:" based on my experience, I am capable to estimate the number of days required to get the work done with my team."
On the other hand, Mohammad continued to work as a civil engineer. He manages, designs, and creates construction projects away from his small business "Ratib Omurak". He thinks it's better for him and for his clients to separate his main profession from his own business. Legally, Mohammad registered his small business "Ratib Omurak" as a private limited company under the name "Ratib Omurak for cleaning and general services". Also, he registered it for taxes in order to protect himself and his laborers, to expand his work scope legally, and for sure to avoid any hassle that may happen with his employees or clients.
"Ratib Omurak" company offers a wide range of cleaning services, such as; professional house cleaning services after construction, furniture and upholstery cleaning services, exterior building cleaning services, luggage transport services, and container loading and unloading services. Mohammad sums it up all by: "the customers should only tell us what type of work they need to be done, and we'll arrange it for them from A to Z".
Mohammad markets for his company services through traditional local radio stations, and through the company Facebook page via paid ad campaigns. He, by himself, is responsible for managing the page and making sure it's running smoothly, he posts photos of his business, responds to messages, and communicates with customers. As an entrepreneur, Mohammad emphasizes that "The Client is Always Right". And he knows how important his customers are because as a business owner you want your customers to return as well as feel welcomed and appreciated. Also, when a consumer's interest in a company's product or service is reflected in their daily dialogues. Essentially, it is free advertising triggered by customer experiences.
Meanwhile, Mohammad is responsible for all the administrative duties in order to reduce the company operating costs as much as possible. So, he provides support to his company which includes, general office management, answering phones, speaking with clients, personnel management, accounting, and financial management. In the future, he is seeking to hire an admin assistant to reduce work pressure and just be responsible for some administrative duties.
Mohammad says that he has indeed benefited greatly from business incubator services provided by ActionAid Palestine which included training in administrative, financial management and monitoring, accounting, and auditing. In addition to the material support which was necessary to develop the business.
Background Information
ActionAid in Palestine (AAP) is a part of global federation working for social justice and gender equality and eradicate poverty in more than 45 countries around the world. AAP started its work in Palestine in 2007 to strengthen the resilience of Palestinian People as ActionAid believes that they should enjoy their rights to freedom, justice and self-determination. AAP implements a number of programs through its engagement with communities and women and youth groups seeking to empower them and enhance their influential civil and political participation to understand their rights and undertake collective activism to address the protracted rights violations resulting from the prolonged occupation of Palestine. AAP works simultaneously to enhance their leadership capacity and knowledge to practice their citizenship in holding authorities and other duty bearers to account.
For more information, please contact
Riham Jafari
Coordinator of Advocacy and Communication in Palestine
Mobile:
+972 (0) 595242890
Office:
+972 (0) (2) 22 13 137
Email: