Mustafa Al-Najjar : Palestinian Successful Model in Combating Unemployment through Vocational Training and Digital Knowledge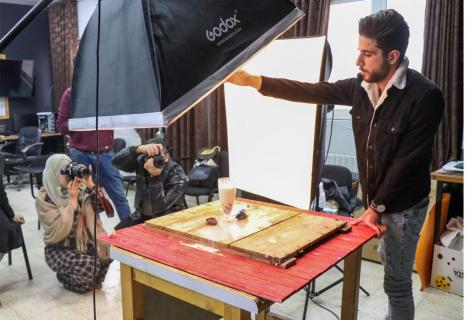 Mustafa Al-Najjar, a young refugee from Al-Fawwar Camp. He graduated from High School in 2015, and then he enrolled in a vocational training institute to become a domestic electrical installer.
Mustafa became a licensed electrician and started working in many different residential construction sites upon request. In other words, he does not work on a continuous basis. "When I finish working on a certain project, I have no clue when I will have the opportunity to start working on a new one! There is no continuity or/and stability in this type of profession," Mustafa said.
Since Mustafa is a young well-informed man, he continually improves his skills and learns more about technical and digital stuff, especially in the field of digital marketing and eCommerce. Personally, He tried to improve his knowledge and his skills because he knows that these sectors will be in high demand.
Therefore, once he knew about the specialized professional training provided by ActionAid - Palestine in cooperation with Palestine Polytechnic University, funded by the Italian Agency for Development Cooperation, he did not hesitate to apply for the eCommerce training program, which aims to provide the trainees with knowledge and skills in the field of conducting commercial activities on the Internet and develop a clear vision about remote working and self-employment.
During the training period which lasted 4 months, Mustafa acquired knowledge about the conditions, ways and principles of conducting e-business activities on domestic markets, keys to online sales success, digital marketing principles, content writing basics, and the most important basics of photography.
Mustafa was totally committed to the training, he kept working hard and continued to perform his duties in an outstanding manner. "It's important to stay focused on my own self-development, and commitment to this training is the key to learn and gain new skills which will help me to start my new project," Mustafa said.
Mustafa aspires to build his own online store, to offer a wide range of remarkable products. He knows that this is going to be a great opportunity since it does not need a huge capital or human capital. Also, purchasing behaviors have been affected by COVID-19 and a good number of people tend to buy online.
On the other hand, Mustafa seeks to utilize the skills he gained from the training to market digitally for the domestic electrical services he provides to get new clients.
He concludes by saying, "I strive for a balance between my work in the electricity field and the online shop that I aspire to build. And I'd never stop learning and developing my skills in digital marketing, as this the key to getting new clients."
Background Information
ActionAid in Palestine (AAP) is a part of global federation working for social justice and gender equality and eradicate poverty in more than 45 countries around the world. AAP started its work in Palestine in 2007 to strengthen the resilience of Palestinian People as ActionAid believes that they should enjoy their rights to freedom, justice and self-determination. AAP implements a number of programs through its engagement with communities and women and youth groups seeking to empower them and enhance their influential civil and political participation to understand their rights and undertake collective activism to address the protracted rights violations resulting from the prolonged occupation of Palestine. AAP works simultaneously to enhance their leadership capacity and knowledge to practice their citizenship in holding authorities and other duty bearers to account.
For more information, please contact
Riham Jafari
Coordinator of Advocacy and Communication in Palestine
Mobile:
+972 (0) 595242890
Office:
+972 (0) (2) 22 13 137
Email: