Ola: Model of Transforming Plight into Opportunity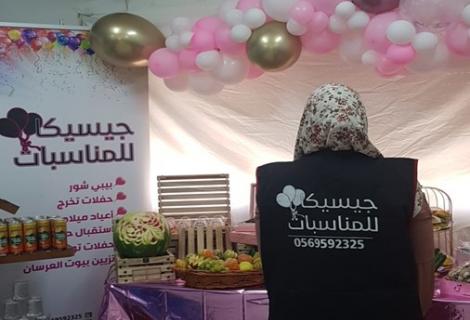 Ola Nu'man Abu Hamdia (43 years old) is a mother of 7 children living in the southern area of the old city of Hebron (H2) that suffer from marginalization, violence of Israeli settlers and movement restrictions. This situation encouraged Ola to start her own project supported by ActionAid Palestine (AAP) to achieve her dream which is "Jessica" for organizing and managing events.
Ola is an active member in a women group established by Valiance -Basala project. This membership offered her space and opportunity to participate in women activities and receive life trainings as leadership, project management and life skills. It also allowed her to start her project that provides her with income and enhances her social status in the community.
For Ola, learning how to organize any event and coordinate decoration and music and receiving orders through social media, were new skills that she had to learn. But the process has given her confidence and economic independence. Ola Said, "it is important for women to have an independent work promoting her status in the community and show their success and abilities to improve themselves".
Utilizing Lockdown during COVID-19 Crisis for Practicing New Skills
COVID-19 crisis has negatively impacted the field of events management. All face-to face events were stopped and they were replaced with virtual events according to lockdown and  safety measures taken to stop the spread of COVID-19.Ola could change this crisis into a blessing by using the time of lockdown in improving her capacity and practicing skills that she gained through trainings provided by AAP in the field of balloons and flowers decoration, coordinating fruits and event tables to improve her project and show creative and attractive ideas that could attract more customers. After that, Ola started posting her ideas and products on social media.
After mitigating the health restrictions regarding COVID-19, Ola re-launched its project and started receiving many orders for managing different occasions. Ola said: "AAP's grant helped me to start and go ahead with my project after months of lockdown".
(photo of Ola while she is working managing events and decorating balloons  in the southern area in Hebron Governorate in the south of West Bank)
Recognizing my Big Dream of "Jessica for Events Management"
Ola expressed her happiness towards the progress of her project. Ola says: "AAP greatly helped and supported me. I really feel happy when I receive positive feedback and encouraging words from my customers praising my work."
Through a grant provided by AAP's project of Valiance "Basala"  Empowering women in H2", funded y Australian Government Department of Foreign Affairs and Trade (DEFAT), Ola is one of 22 women AAP supported by providing them with agricultural items and equipment needed for planting vegetables and livestock farming and other commercial items to establish their own business. Economic and raising awareness activities of this project will help women to identify skills and experiences they need to overcome difficult situations and create positive change for women within their families and communities.
Background Information
ActionAid in Palestine (AAP) is a part of global federation working for social justice and gender equality and eradicate poverty in more than 45 countries around the world. AAP started its work in Palestine in 2007 to strengthen the resilience of Palestinian People as ActionAid believes that they should enjoy their rights to freedom, justice and self-determination. AAP implements a number of programs through its engagement with communities and women and youth groups seeking to empower them and enhance their influential civil and political participation to understand their rights and undertake collective activism to address the protracted rights violations resulting from the prolonged occupation of Palestine. AAP works simultaneously to enhance their leadership capacity and knowledge to practice their citizenship in holding authorities and other duty bearers to account.
For more information, please contact
Riham Jafari
Coordinator of Advocacy and Communication in Palestine
Mobile:
+972 (0) 595242890
Office:
+972 (0) (2) 22 13 137
Email: