Palestinian Youth to Implement Environmental Initiatives for Rehabilitating and Maintaining Natural Walks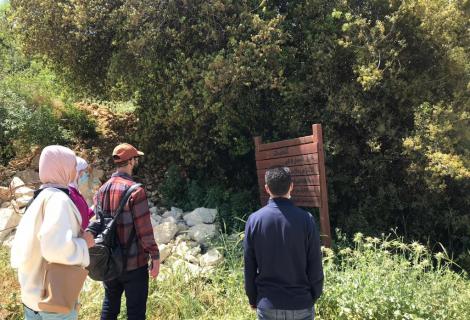 Celebrating World Environment Day 2021
Youth members of youth local council of Halhoul municipality are leading environmental initiative aiming to maintain and rehabilitate the environmental walk of Haska Al-Safa. This walk is one of the Palestinian nine accredited walks that has biodiversity and contains many forests in governorate of Hebron in the south of West Bank. ActionAid Palestine's programme of "civil and Democratic participation of Palestinian supported this initiative to promote role of youth in saving APalestinian environment and raising awareness of Palestinian community about environmental issues in Palestinian Context .  Engaging youth in environmental protection not only creates direct impact on changing youth behaviors and attitudes, but it enhances the economic and environmental conditions of their country.
Youth used their leadership and national responsibility in implementing this initiative. The local youth council of Halhoul municipality coordinated with relevant organizations and municipalities of Halhoul,Beit Kahel,Tarqumya,Beit Ula and discussed the important role of the relevant  ministries of agriculture and tourism and Palestinian Environmental Quality Authority for implementing this activity.
Through the plan of this initiative, the local youth council will create means and environmentally friendly practices and recycle woods as well as install signs that would guide tourists in this walk. They installed many equipment and facilities to attract tourists. Youth are also trained on tourist guiding to facilitate the journey of tourists to this walk.
Mo'min Qaiqaish , the head of youth local council of Halhoul municipality : " this initiative increased my knowledge about environmental and tourist issues and networking with relevant community organizations working in the field of environment. It has also promoted the spirit of volunteerism among youth and increased number of volunteers in the field of protecting environment. Local tourism will be improved and greening areas of walk with planting trees will encourage many local tourists to visit this location". 
Marah Aqel is young woman participating in implementing this initiative: "this initiative has deepened my understanding for environmental issues in Palestine. I strongly believe that Palestinian youth can play an important role in raising awareness of their community about means of saving environment"
Faraj Masha'al is a young man: "this initiative allowed me to practice my knowledge and academic study in the field of renewable energy. Marinating environmental sights is crucial for improving local tourism and building Palestinian national economy".
Background Information
ActionAid in Palestine (AAP) is a part of global federation working for social justice and gender equality and eradicate poverty in more than 45 countries around the world. AAP started its work in Palestine in 2007 to strengthen the resilience of Palestinian People as ActionAid believes that they should enjoy their rights to freedom, justice and self-determination. AAP implements a number of programs through its engagement with communities and women and youth groups seeking to empower them and enhance their influential civil and political participation to understand their rights and undertake collective activism to address the protracted rights violations resulting from the prolonged occupation of Palestine. AAP works simultaneously to enhance their leadership capacity and knowledge to practice their citizenship in holding authorities and other duty bearers to account.
For more information, please contact
Riham Jafari
Coordinator of Advocacy and Communication in Palestine
Mobile:
+972 (0) 595242890
Office:
+972 (0) (2) 22 13 137
Email: Riham.Jafari@actionaid.org