Palestinian Youth to Renovate Palestinian Water Springs for Protecting the Land and Developing Green Economy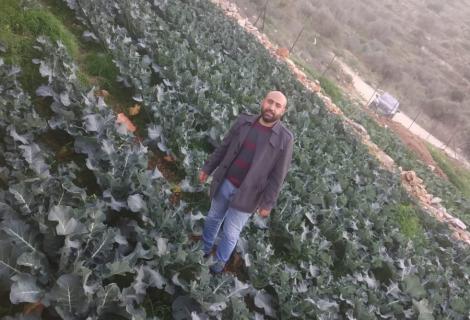 ActionAid Palestine (AAP)'s program of "Civil and Democratic Participation of Palestinian Youth" supported a youth-led initiative aiming to save and protect Palestinian water and lands in the village of Al-Janiya -near Ramallah governorate in the middle of West Bank. This initiative was implemented by AAP's partner "Right to Land Coalition".
Al-Janiya village is located in Area "C' which is under the Israeli Occupation control. It has many old water springs that need to be renovated to help farmers irrigate their agriculture crops. 8 young people renovated an old water spring adjacent to an illegal Israeli settlement and targeted by Israel settlers.
By repairing the water spring and cultivating the surrounding lands, young people intended to demonstrate an example of youth action in their village to protect their land and become attached more to it. In addition, youth and farmers can cultivate the lands surrounding the water spring with vegetables, whilst ensuring the land is protected from being taken over by settlers. Mohammad is one of young people leading this initiative says: " this initiative has economically improved our village. Making water use in agriculture more sustainable and equitable is key to ensuring food security and nutrition. It is a ray of hope and opportunity for youth for creating better reality and strengthening their spirit of volunteerism and initiative".
It should be noted that Palestinians have been denied by the Israeli occupation to access and extract water from the Jordan River since 1967, which was estimated at about 250 MCM. With scarce water and Israeli restrictions on access to resources, Palestinian cities are forced to purchase water from the Israeli water company "Mekorot". In 2019, they purchased 84.2 MCM, which represented 20% of the water available in Palestine.
The Israeli occupation's control of the water of the Jordan River and the Dead Sea is a major reason not to use surface water. Consequently, a "man-made" water crisis has been brought about which undermines the living conditions and endangers the health situation of the Palestinian people.  In areas where water resources originating in the West Bank are over-exploited in Israel as well as in most of the Gaza Strip, the imminent threat of the permanent environmental destruction of groundwater reserves, aquifers, has been reported.
Israelis have access to around 240 liters of water per person per day, and settlers over 300, Palestinians in the West Bank are left with 73 liters – well below the World Health Organization's minimum standard of 100. These discriminatory water policies prove that Israel is using water as a tool to dominate Palestinians, exercise its power, and punish an entire population by deliberately depriving its inhabitants the most basic of rights.
Background Information
ActionAid in Palestine (AAP) is a part of global federation working for social justice and gender equality and eradicate poverty in more than 45 countries around the world. AAP started its work in Palestine in 2007 to strengthen the resilience of Palestinian People as ActionAid believes that they should enjoy their rights to freedom, justice and self-determination. AAP implements a number of programs through its engagement with communities and women and youth groups seeking to empower them and enhance their influential civil and political participation to understand their rights and undertake collective activism to address the protracted rights violations resulting from the prolonged occupation of Palestine. AAP works simultaneously to enhance their leadership capacity and knowledge to practice their citizenship in holding authorities and other duty bearers to account.
For more information, please contact
Riham Jafari
Coordinator of Advocacy and Communication in Palestine
Mobile:
+972 (0) 595242890
Office:
+972 (0) (2) 22 13 137
Email: