Women Voices from Gaza after Israeli Attacks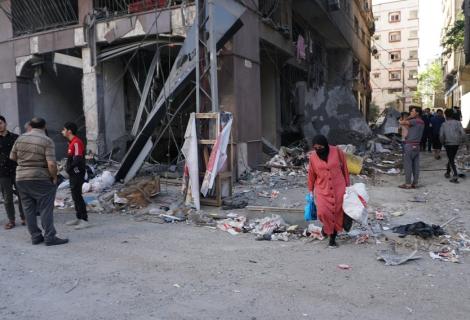 Palestinian women bear the heaviest burden after Israeli bombing launched against besieged Gaza Strip during May, 2021.They had to leave their homes with their children escaping from Israeli airstrikes and seeking protection and refuge in houses of the their relatives in other areas and schools belonging to the United Nations Relief and Works Agency for Palestine Refugees in the Near East (UNRWA).
According to the Office of the High Commissioner for Human Rights (OHCHR), up to 27 May, 256 Palestinians, including 66 children and 40 women were killed by during recent escalation. Ceasefire was reached on 21 May 2021.
Rajaa' Al-Aijlah (43 years old) from Gaza living in Al-Shuja'ia . Rajaa's family consisting of 25 members who were forced to leave their house as other families due to Israeli intensive shelling during Israel bombing against Gaza. Rajaa's hand was broken after falling of the window caused by shelling while they were leaving their house. For Rajaa', memories of war are very painful. She suffers from pains and their house was seriously damaged. They walked for one hour until they got UNRWA school in Jabalia. Rajaa' said "the situation in UNRWA schools was very bad during the first days of war lacking the basic necessities of life. We left our house without taking any item. We slept on the ground during the first night. We received later some covers and blankets. 10 members of my family are children under age of 16 years old. They were continuously terrified. The want to be sticked to their mothers all the time and they are still afraid of all sounds. There is a war crime that is being committed against us, we are not protected under negligence of international community".
(Photo of Rajaa's family while they were staying in UNRWA schools during Israeli War against Gaza -Gaza Strip -Palestine -2021)
Ruwad Abu Mansi (25 years old) living in the middle areas in the town of Al-Musdar on the border areas. Under the intensification of bombardment, Ruwad and her family that consists of 13 members were forced to leave their house and walked under intensive bombardment to save their lives. Under heavy shelling, 6 children have been displaced as this displacement terrorized and affected them till the moment. Ruwad said: "we left our house under intensive shelling while our children were crying. We did not take anything except our souls. On the following day, Ruwad's mother went back to their house to bring some essential items and at that time, the agricultural lands next to their house were burnt with bombs. Ruwad said that "we did not feel comfortable at schools and this pushed us to seek refuge at house of our relatives in another area. This house is under construction that does not contain windows or doors. Their new neighbors provide them with electricity and some essential items. 
(photo of the house that Ruwad and her family moved to live in  after they were forced to leave their house under Israeli bombing against Gaza during May 2021 .Gaza Strip -Palestine.)
Background Information
ActionAid in Palestine (AAP) is a part of global federation working for social justice and gender equality and eradicate poverty in more than 45 countries around the world. AAP started its work in Palestine in 2007 to strengthen the resilience of Palestinian People as ActionAid believes that they should enjoy their rights to freedom, justice and self-determination. AAP implements a number of programs through its engagement with communities and women and youth groups seeking to empower them and enhance their influential civil and political participation to understand their rights and undertake collective activism to address the protracted rights violations resulting from the prolonged occupation of Palestine. AAP works simultaneously to enhance their leadership capacity and knowledge to practice their citizenship in holding authorities and other duty bearers to account.
For more information, please contact
Riham Jafari
Coordinator of Advocacy and Communication in Palestine
Mobile:
+972 (0) 595242890
Office:
+972 (0) (2) 22 13 137
Email:
.