Young Woman with Disabilities in H2 to Overcome their Disability with Entrepreneurship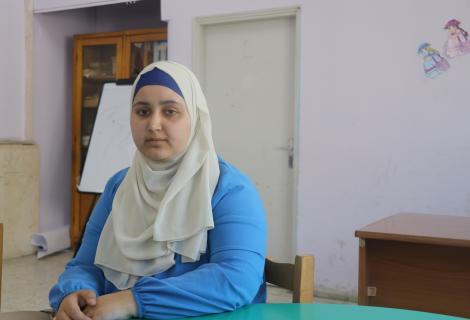 ActionAid Palestine in partnership with Bethlehem Arab Society for Rehabilitation supported an initiative targeting marginalized young women with disabilities in the southern area in Hebron governorate in the south of West Bank. Through a grant provided by AAP's project of "Valiance "Basala" Empowering women in H2," funded by Australian Government - Department of Foreign Affairs and Trade(DFAT), those women  will be  economically empowered and their rights and  effective participation in social and economic development will be strengthened  .
This initiative targeted 13 young women with disabilities through different activities. Targeted group was engaged in different activities including raising awareness sessions to promote their rights by raising their awareness about issues of disability, adaption mechanisms and rights of PwDs. Home visits were implemented to some cases and other cases were referred to specialist centers to receive the needed support. Women also enjoyed receiving trainings in field of establishing income-generating projects. They were also provided with motor and audio devices and tools.
 Lara (19 years old) is one of those targeted young women with disabilities who has visual impairment . Lara used to spend her time at home avoiding interaction and communication with people and community. Her mother was an active member in a group women established by AAP's project of "Valiance" Basala".  Lara was encouraged by her mother to accompany her to activities  and trainings of women group. Lara accepted to go to those trainings of the project in an attempt to overcome her solitude and loneliness. These trainings have changed the Lara's life and allowed her to start her project of "remedial soap".
Lara says: "the trainings through AAP's project have helped me to change my behaviors and build my personality as I used to be a lonely person having problems in communicating people. They also changed my thinking and attitudes and enabled me to establish my own project that has economically empowered me".
Lara expressed her happiness towards the progress of her project and overcoming challenges she faced at the beginning. Lara says: "with support of my family and AAP's project, I was able to get rid of the feelings of fears, worry about my work.  The project has protected my economic rights by establishing my own business which will permanently provide me with income. This has helped me to overcome feelings of being bored caused by long waiting for getting a job in private and public sectors".
"Valiance"  project provides women with agricultural items and equipment needed for planting vegetables and livestock farming and other commercial items to establish their own businesses. Economic and raising awareness activities of this project will help women to identify all skills and experiences they need to overcome difficult situations and create positive change for women within their families and communities.
Background Information
ActionAid in Palestine (AAP) is a part of global federation working for social justice and gender equality and eradicate poverty in more than 45 countries around the world. AAP started its work in Palestine in 2007 to strengthen the resilience of Palestinian People as ActionAid believes that they should enjoy their rights to freedom, justice and self-determination. AAP implements a number of programs through its engagement with communities and women and youth groups seeking to empower them and enhance their influential civil and political participation to understand their rights and undertake collective activism to address the protracted rights violations resulting from the prolonged occupation of Palestine. AAP works simultaneously to enhance their leadership capacity and knowledge to practice their citizenship in holding authorities and other duty bearers to account.
For more information, please contact
Riham Jafari
Coordinator of Advocacy and Communication in Palestine
Mobile:
+972 (0) 595242890
Office:
+972 (0) (2) 22 13 137
Email:
.
.