Pain with Strawberry Flavor: Gaza Women to Suffer from Climate Change Exacerbated by War Crisis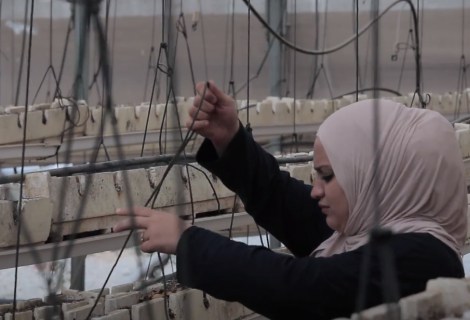 Walaa' Abed Al-Mun'im is a Palestinian young woman living in Gaza Strip and suffering from the impact of Climate crisis. Walaa' is an agricultural engineer working in the field of agriculture. Walaa' has established her agricultural enterprise using greenhouses for planting strawberryas a source of income for her and her family. Strawberry is recognized by Gazans as "RedGold".Her enterprise was supported through the program of "Rights and Resilience" that ActionAid Palestine jointly implemented with the Palestinian NGO's Network (PNGO).
Walaa' says: "passion for work in the field of agriculture is my source of income. Through this project of "Red Gold", I could achieve my self-independence".
Walaa's project was damaged during the recent war against Gaza Strip when it was burnt.
Strawberry is one of the most important economic agricultural crops in Gaza which employs hundreds of women and men generating income for them and their families. 
Walaa' says that "strawberry is named with "Red Gold" as it is highly valued by the residents of Gaza Strip. It has a delicious taste and an attractive form. We consider strawberry as our ambassador that represents farmers and Gaza".
Walaa's agricultural project was seriously impacted by the war saying: "I was waiting for the harvest of new round of mature strawberries, but unfortunately, I could not enjoy harvesting them due the beginning of the war. After 10 days of the war, all saplings of strawberries had got dried and died and there had been significant damages affecting the greenhouse and equipment as water generator, water tanks and nylon irrigation sheets.
Walaa' continued:"the success of the project was not easy due to lack of capacities. I was dreaming of expanding my project, but the war had damaged it bringing me back to zero".
The women in Gaza Strip bear the brunt of the polluted water as 97% of water there is undrinkable due to continuity of Israeli blockade and deterioration of water security. The latest Israeli aggression against Gaza Strip exacerbated the suffering of women by burning agricultural crops and lands that women work in. In addition, the bombing of the stores of agricultural fertilizers increased the pollution of water and soil.   
Thesepracticesincrease the loads and responsibilities of women and mothers as the carry the responsibility for managing food and water for their families and they are also assigned to care for their children elderly and people with Disabilities. This problem causes many dangers as food insecurity and affects the quality of food and health of Palestinian households. Women are also exposed to dangers of chemical fertilizers during times of pregnancy and breast-feeding.
Background Information
ActionAid in Palestine (AAP) is a part of global federation working for social justice and gender equality and eradicate poverty in more than 45 countries around the world. AAP started its work in Palestine in 2007 to strengthen the resilience of Palestinian People as ActionAid believes that they should enjoy their rights to freedom, justice and self-determination. AAP implements a number of programs through its engagement with communities and women and youth groups seeking to empower them and enhance their influential civil and political participation to understand their rights and undertake collective activism to address the protracted rights violations resulting from the prolonged occupation of Palestine. AAP works simultaneously to enhance their leadership capacity and knowledge to practice their citizenship in holding authorities and other duty bearers to account.
For more information, please contact
Riham Jafari
Coordinator of Advocacy and Communication in Palestine
Mobile:
+972 (0) 595242890
Office:
+972 (0) (2) 22 13 137
Email: