Palestinian Earth Walk a Head of the UN Climate Change Conference (COP 26) in Glasgow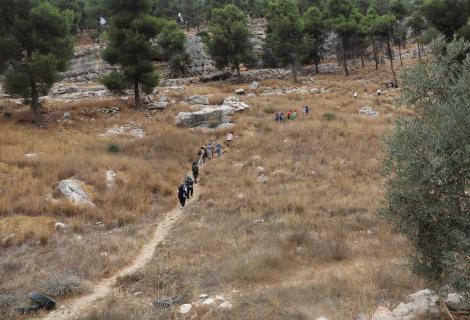 Hebron -West Bank – More than 27 young participants participated in Earth walk in Wadi Al-Kuf natural reserve in Hebron Governorate in the south of West Bank. Youth had walked for 6 Km exploring different parts of this reserve which is considered the largest natural reserve in the West Bank and its area is estimated at 3500 dunums. This walk is organized as part of DANIDA's civil society program in cooperation with the Palestinian Environment Quality Authority (PEQA) and Palestinian Agriculture Directorate in Hebron Governorate. This coincided with preparation for 26th UN Climate Change Conference of the Parties (COP26) in Glasgow on 31 October – 12 November 2021  .
(photo of youth participating in Palestinian Earth Walk in Wadi Al-Kuf reserve in solidarity with Palestinian natural reserves a head of UN Climate Change Summit (COP 26)) 
This walk aimed at promoting the role of Palestinian youth in responding to climate crisis and implementing safe environmental initiatives for tackling problems caused by climate change and Israeli practices. This walk highlighted the issue of the climate crisis and its negative impacts on earth and Israeli practices committed against Palestinian Land. 
The youth were briefed by the Palestinian environment expert in(PEQA), Jamal Tmizi about Palestinian natural reserves and their challenges affecting  the sustainability and mechanisms required to maintain these reserves . He also highlighted the role of AAP and its work with governmental organizations to raise the awareness of Palestinian youth about the importance of saving the Palestinian environment and necessity of combating climate change as it strongly threatens all of us.