ActionAid Palestine and Watan Academy to Organize Training on Media Campaigns and Art of Debate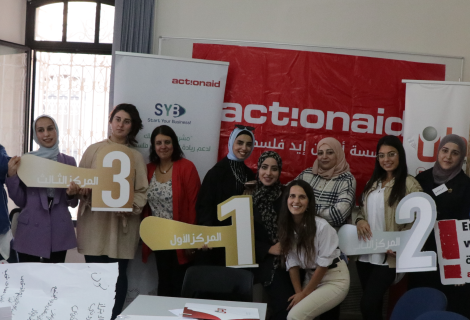 AAP- ActionAid-Palestine (AAP) organized a training workshop targeting 9 young women from different areas of Bethlehem Governorate on youth and media and organizing media campaigns. The workshop was implemented in partnership with the Watan Academy for Training with the aim of raising the awareness of young men and women about labor and digital rights, and to complement the activities of the campaign "Challenge the negative practices against women in the work environment" and the "Afaq" campaign to promote social entrepreneurship , within the "Start Your Business" project, implemented by Action Aid Palestine In partnership with the Bethlehem Business Incubator and Younes Social Business Center, funded by the Italian Agency for Development Cooperation by the Italian Voluntary Foundation VIS. The main objective of the project is to promote community entrepreneurship among the Palestinian youth.
The workshop targeted 9 young women from different areas of Bethlehem Governorate to enhance and improve their skills on how to claim their rights by training them on how to build communication plans, media campaigns, the art of speaking and debate, and improving their knowledge in managing media campaigns on social media platforms and enabling them to deal with these platforms efficiently and effectively. The workshop also aimed to reinforce their attitudes towards the importance and benefits of managing these campaigns at the personal level as individuals and entrepreneurial projects, and governmental / commercial non-profit organizations, and at the business level as companies and institutions.
Mariana Kasrawi is one of the young women who received this training said: "I participated in this training that aimed at enhancing the role of women and young people through awareness campaigns. I also participated in this training to be aware of   the importance of using digital means to promote, express and market  ideas professionally during processes of mobilization and advocacy" ".Lama Sayara is one of the young women who received this training talked: "the importance of training is to learn how to use social media to demand the rights of marginalized groups such as women, young people and those with special needs".The participants applied what they were trained on by designing rights campaigns, defining their goals and the most important available means that can be used to launch them, raise their voices, and demand their rights. Those campaigns were presented and evaluated. The training was concluded with distributing  certificates to trainees .
It is worth noting that the "Start Your Business" project aims to promote the economic empowerment of youth in Palestine through the development and creation of traditional and social emerging projects and creating a stimulating environment for emerging projects in the areas of Bethlehem, East Jerusalem, Hebron, Ramallah, Tulkarm, Jenin and Jericho.
Background Information
ActionAid in Palestine (AAP) is a part of global federation working for social justice and gender equality and eradicate poverty in more than 45 countries around the world. AAP started its work in Palestine in 2007 to strengthen the resilience of Palestinian People as ActionAid believes that they should enjoy their rights to freedom, justice and self-determination. AAP implements a number of programs through its engagement with communities and women and youth groups seeking to empower them and enhance their influential civil and political participation to understand their rights and undertake collective activism to address the protracted rights violations resulting from the prolonged occupation of Palestine. AAP works simultaneously to enhance their leadership capacity and knowledge to practice their citizenship in holding authorities and other duty bearers to account.
For more information, please contact
Riham Jafari
Coordinator of Advocacy and Communication in Palestine
Mobile:
+972 (0) 595242890
Office:
+972 (0) (2) 22 13 137
Email: Riham.Jafari@actionaid.org