"Challenge Negative Practices against Women in Work Environment" Campaign to Conclude Training on Safe and Decent Work Environment for Young Women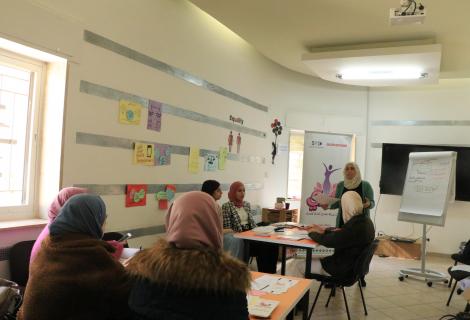 Bethlehem -Hebron -West Bank-ActionAid Palestine (AAP)concluded a training on safe and decent work environment and women 's rights for young women in the governorates of Hebron and Bethlehem. This training is part of "Challenge the Negative Practices against Women in Work Environment" campaign AAP launched  as a prat of the activities of the project of "Start your Business" funded by the Italian Agency for Development Cooperation (AICS) in partnership with International Voluntary Service for Development (VIS) and implemented in partnership with Bethlehem Business Incubator (BBI) and the Yunus Social Business Center (YSBC).
This training targeted more than 30 young women who are new graduates or university students at their fourth year. It aimed to raise their awareness about the most important Palestinian labor laws and policies. Trainees were introduced to the importance of ILO Convention 190 which calls for ensuring  a safe work  environment for women free from violence and harassment, including gender-based violence and harassment. This training seeks to prepare young women to enter labor market by introducing them to applicable Palestinian labor law in Palestinian firms. Young women were trained on how to deal with violations that working women might face in labor market.
"Challenge" campaign aims to achieve the strategic goal of AAP which is building active participation of women and young women to enable them to face discrimination and violence practiced against them, enhancing their access to just economic opportunities, and advocating for their economic rights in labor market.
Marai Juha is a young woman who participated in this training said: "this training increased my knowledge about Palestinian Labor Law. It was a wonderful and useful training on personal level which has equipped me with life skills to claim labor rights with proper means".
Amal Musa is a young woman participated in this training said: "the content of the training is really wonderful and useful. The subjects that were discussed in this training will be useful in providing us with deep information about policies and laws of labor market".
Alaa' Abu Mfareh said about the training: "The training was useful and excellent. I have benefited a lot and gained knowledge about labor law".
The young woman, Iman Zawahreh: "I enjoyed the training and gained many information and skills in the fields of labor law and ILO convention 190.
Background Information
ActionAid in Palestine (AAP) is a part of global federation working for social justice and gender equality and eradicate poverty in more than 45 countries around the world. AAP started its work in Palestine in 2007 to strengthen the resilience of Palestinian People as ActionAid believes that they should enjoy their rights to freedom, justice and self-determination. AAP implements a number of programs through its engagement with communities and women and youth groups seeking to empower them and enhance their influential civil and political participation to understand their rights and undertake collective activism to address the protracted rights violations resulting from the prolonged occupation of Palestine. AAP works simultaneously to enhance their leadership capacity and knowledge to practice their citizenship in holding authorities and other duty bearers to account.
For more information, please contact
Riham Jafari
Coordinator of Advocacy and Communication in Palestine
Mobile:
+972 (0) 595242890
Office:
+972 (0) (2) 22 13 137
Email: